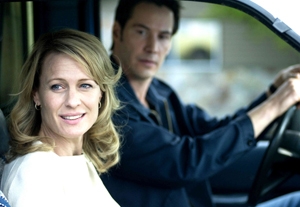 Robin Wright (she's dropped the Penn due to her divorce from Sean) has finally found the role of a lifetime in Pippa Lee, an aging woman who on the surface would seem to have it all. Buried beneath the suburban façade hides a very different past and a longing for the identity she lost somewhere along the way.
In this exceptionally well written, directed, and cast movie from Rebecca Miller (adapting her own novel), Wright plays a woman with two grown children, married to Herb (Alan Arkin), a man 30 years her senior and an accomplished publisher who now must move to a retirement community. It's there she discovers she isn't fulfilled, that the woman she thought she was doesn't really exist in the pallid existence she's been leading. With liberal use of flashbacks, we meet the younger Pippa (Blake Lively), a wildly different person who seems to have no connection to the rather staid housewife she's become. What is clear is, no matter who Pippa is with, she becomes what that person wants her to be. Her quest to unlock her identity leads her into an odd but touching relationship with her neighbor's (Shirley Knight) son Chris (Keanu Reeves), a much younger man to whom she can relate.
Along the way are encounters at various points in her life with her out-of-control mom (Maria Bello), her neurotic friend (Winona Ryder), the lover of a relative (Julianne Moore), and a woman who once vied for Herb (the gorgeous Monica Bellucci). There's also the damaged Chris' protective mom, played to the hilt by Knight. It's a highly impressive cast drawn to this film to work with Miller, whose two previous, very personal films ("Personal Velocity," "The Ballad of Jack And Rose") have made her a desirable director to work with. The supporting cast is wonderful in its own way, particularly Ryder as the friend involved in an act of betrayal and Arkin, just superb and quite touching as an aging man not ready to give in to the ravages of time. Lively also fills the bill nicely as the younger Pippa and is perfectly matched to Wright, even though they don't really look that much like each other.
But ultimately this is a film that belongs to Wright—a part she has been waiting for, ready for, and seems to inhabit with every fiber of her being. Although she has very funny moments and strongly dramatic scenes, it's the quiet close-ups on her, the vacancy behind the eyes that tell us all we need to know. Wright puts a public face on these private lives and winds up delivering one of the most unforgettable performances by any actor, male or female, this year.
Genre: Comedy/Drama
Written and directed by: Rebecca Miller
Starring: Robin Wright, Alan Arkin, Winona Ryder, Blake Lively, Julianne Moore, Maria Bello, Shirley Knight, Keanu Reeves, Zoe Kazan, Mike Binder, Monica Bellucci
Starring: Robin Wright, Alan Arkin, Blake Lively, Keanu Reeves, Zoe Kazan