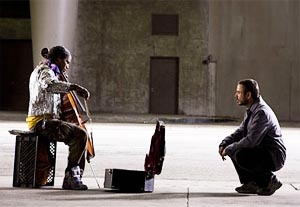 The Soloist
is about a lot of things: trust, compassion, chasing a dream, the plight of the homeless, mental illness, the power of music, and the influence and decline of newspapers (which I have a particularly soft spot for). Above all,
The Soloist
is about friendship. That's a lot of ground to cover, and Joe Wright's direction, as with
Atonement
, is a bit heavy-handed. But like the ethereal Beethoven heard in the film, the lead performances by Jamie Foxx as a homeless musician and Robert Downey Jr. as a newspaper columnist who takes an interest in the musician's plight, are sublime. Likewise, the story, based on Los Angeles Times contributor Steve Lopez's book about his real-life friendship with cellist Nathaniel Ayers, is utterly compelling.
Lopez is initially drawn to a sad, soulful tune being played in a downtown public park, where he stumbles upon Ayers, an eccentric man making the most of a two-string violin. Fishing for his next column, Lopez engages the rambling Ayers, who says, in a rare moment of clarity, "I apologize for my appearance. I've had a few setbacks." The ensuing story flashes back to some of those setbacks—most dramatically his mental decline while on scholarship at Juilliard. At first, Ayers is simply another human-interest story for Lopez to capitalize on, but when the columnist receives a donated cello from a touched reader to replace Ayers' lost instrument, Lopez becomes increasingly drawn to his subject's struggles and, more important, to his survival.
Downey hits all the right notes as a jaded journalist who's racked up years chronicling the lives of strangers while evading emotional investment—that is, until Ayers strikes a chord. Foxx is likewise outstanding as a gifted but tormented man trapped in a head filled with distracting voices that prevent him from carrying out a "normal" life. The supporting cast includes strong performances by Lisa Gay Hamilton as Ayers' sister and Nelsan Ellis as a pragmatic but sympathetic director of a homeless shelter. As much as I usually adore Catherine Keener, her character in this—Lopez's editor and romantic interest—is not fully realized, and her performance likewise doesn't feel complete. Also unsatisfying is the performance by Tom Hollander as an overzealous music teacher who tries to help Ayers.
The Soloist,
like its lead characters, is imperfect. Still, there is much to appreciate.
Genre: Drama.
Written by: Susannah Grant.
Directed by: Joe Wright.
Starring: Robert Downey Jr., Jamie Foxx, Catherine Keener, Lisa Gay Hamilton, Nelsan Ellis.