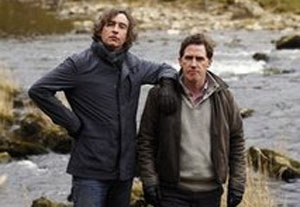 Steve Coogan and Rob Brydon may be the funniest impressionists in all of Britain, but they turn their characters' hilarious hop through England's north country into surprisingly tender voyages of self-discovery. Coogan plays Steve, a philandering actor asked by Britain's The Observer newspaper to write about a gastronomic road trip. His girlfriend cancels, leaving Steve to coax Rob (Brydon) into being his travel companion. Rob is a contented husband and father who lets himself be wrenched from his placid life by the whinging Steve.
Off goes the odd couple. On the drive, they acerbically debate the relative merits of the north and Wales (Steve and Rob's native lands, respectively). Over meals they preposterously try to describe increasingly bizarre cuisines as they are served samplers in the country's finest, hippest restaurants. But the most scrumptious moments show the two locked in combat over which one "does" the better celebrity—that is, when Steve isn't wrangling an all-too-willing woman into his bed. Brydon seems to have a lock on Michael Caine, voicing the actor first as younger Cockney, then as the aging Caine after booze and cigars have ravaged his voice. Nope, Coogan steps in, placing Caine's voice in his nose, from firm declamations to a shattered "She was only 16." Their versions of Al Pacino, Woody Allen, Anthony Hopkins, and Hugh Grant figure into the meals.
Director Michael Winterbottom also earns his share of laughs; note particularly how Coogan's arm blocks a shot, just as Steve tries to upstage Rob. But the framing of Coogan in desolate landscapes tells another story equally effectively. No writer is credited.
Eat well before watching this film. After it, go hug someone you love.
Directed by: Michael Winterbottom
Starring: Rob Brydon, Steve Coogan.