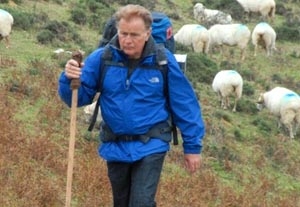 The Way of St. James—or El Camino de Santiago—is more than just a two-month walk. For some, it's a historical pilgrimage. For others, it's an adventure. For Tom, played by the incomparable Martin Sheen, it's a way to honor his son's memory and find peace within himself. Along "The Way," while scattering ashes and seeing visions of his son Daniel (played by real-life son Emilio Estevez) wherever he goes, the hardhearted Tom meets a jolly Dutchman (Yorick van Wageningen), an edgy Canadian (Deborah Kara Unger), and an outspoken Irish writer (James Nesbitt), who become his traveling companions, much to Tom's chagrin. All claim to have their reasons for walking the Camino—losing weight, quitting smoking, and curing writer's block, respectively—but their true intentions run deeper, as true intentions often do.
Sheen gives what might be the best performance of his career. He internalizes his regret and anguish, letting his emotion surface in slow intervals. He's grouchier and more stubborn than audiences are used to seeing him, but he's not unlovable. Unlike Julia Roberts' Liz in "Eat Pray Love" (another "travel to find yourself" type of movie), Tom has flaws that are endearing. His quest is heartfelt and inspiring. You feel like you are taking a spiritual, healing journey with him.
The role seems very personal for Sheen, who obviously had strong ties to the film: Estevez wrote, directed, and acted alongside him, and that's not to mention Sheen's Spanish heritage and devout Catholicism (although it's more of a spiritual journey than a religious one). It's also fitting, not cheesy or self-indulgent, that Estevez plays his son. Their bond rings true, and the honesty of their relationship only helps spotlight their great performances.
The supporting characters provide the occasional lighthearted moments of humor. Van Wageningen in particular, usually cast as more intense characters, stands out as sweet and jovial Joost, whose penchant for food, drink, and good times seems to cause the trouble in his life that he's struggling to fix.
"The Way" is soulful, uplifting, and warm-hearted yet powerful. The main reason to see it, besides the breathtaking beauty of northern Spain, is the brilliance of Sheen's acting and the intelligence of director Estevez in centering a film on said acting. Be warned: After watching you may start planning your own trip to Spain to walk the Camino.
Genre: Drama
Written and directed by Emilio Estevez
Starring Martin Sheen, Emilio Estevez, Deborah Kara Unger, Yorick van Wageningen, James Nesbitt