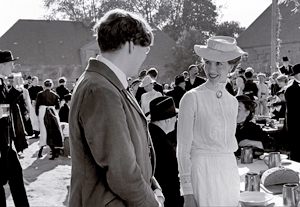 "The White Ribbon" is masterful filmmaking, but truth be told, it's not a movie that mainstream audiences in the U.S. will likely flock to or be particularly entertained by. First, it's in German (with English subtitles). Second, it's long—nearly two and half hours, but it feels longer. Third, it doesn't feature any recognizable actors, foreign or domestic. Fourth, there's not much in the way of action—and as for sex, it's meekly portrayed. Fifth, it's a black-and-white period piece set in a village in Protestant northern Germany in 1913–14, just before World War I. Asleep yet?
So why did the jury at this year's Cannes Film Festival award "The White Ribbon" with the Palme d'Or, the festival's highest honor? What is in it for audiences who wish to take the plunge? The acting is inarguably phenomenal, the large ensemble cast extraordinary. The naturalism of the cast is beautiful to behold. No one actor stands out above another. The actors are all that good, even the children.
The cinematography is, likewise, breathtaking. The film's cinematographer, Christian Berger, will likely win an Oscar for this. The attention to detail of Dutch writer-director Michael Haneke is equally impressive. Ambient sounds serve as character, whether it is the wind blowing or birds singing. The costumes and set design are also impeccable.
The story is compelling, but it can also be frustrating, especially if you like your plot tied up in a nice, neat package. "The White Ribbon" opens with one of a series of mysterious mishaps that put the villagers on edge. Seemingly unrelated accidents and other very bad things keep happening. A doctor is thrown from his horse as a result of foul play, a female factory worker is killed in a freak accident, young children are tortured, fire breaks out. Could the town's seemingly innocent youth be responsible for these horrors? All the villagers and the audience know is that tranquility and trust are eroding.
Intertwined with the above plot is a tame love story following the film's offscreen narrator (Ernst Jacobi) as a young man (Christian Friedel) employed as the village's sole school teacher and Eva (Leonie Benesch), a young woman from a neighboring town hired as a nanny for the baron and baroness' children. The lovers represent, perhaps, the last vestige of innocence on the eve of a horrible war.
Haneke expertly transports his audience into a world that no longer exists. And while there's something to say about living in simpler times, there's a distinct wickedness in the air.
Genre: Drama. Written and directed by: Michael Haneke.
Starring: Christian Friedel, Leonie Benesch, Ulrich Tukur, Ursina Lardi, Burghart Klaussner, Steffi Kühnert, Maria-Victoria Dragus, Thibault Sérié, Josef Bierbichler, Janina Fautz, Rainer Bock, Susanne Lothar.