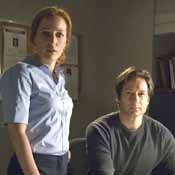 It's been six years since the hit Fox series The X-Files went off the air (after nine seasons) and 10 years since the release of the big-screen feature version. The big question with the new movie is this: Does anybody still care? The answer lies in the still-appealing chemistry and unusual romance between Mulder (David Duchovny) and Scully (Gillian Anderson). They are the reason The X-Files: I Want To Believe works at all. Having made its reputation with out-there story lines revolving around paranormal events and alien doings, this edition veers into more-traditional areas we often see in routine film thrillers. Since creator-co-writer-director Chris Carter has kept his plot shrouded in top-level secrecy, we were really hoping to be blown away by an extraordinary story. Unfortunately the emphasis here is on the "ordinary," minus the "extra" part.
Since we would probably be killed if we reveal too much, suffice it to say Agent Mulder is called back into action when unexplained mysteries regarding the fate of an FBI agent and perhaps others begin taking a toll on investigators played by Amanda Peet and rapper Alvin "Xzibit" Joiner. Together with dedicated physician Scully, Mulder gets swept into a frigid world where secrets may be unlocked by a controversial priest named Father Joe (Billy Connolly), who claims to have psychic abilities that can come in very handy to our dynamic duo. Of course, Father Joe has a past, and such contemporary elements as stem-cell research and organ "donation" figure heavily into the proceedings. So much of this borders on the sleazy plot lines in B-movie thrillers that it's a bit surprising Carter has wrapped the considerable X-Files reputation around such lowbrow, preposterous events.
Fortunately for Carter and the franchise, it is in the hands of enormously charismatic actors who have earned viewers' goodwill after so many years in the roles. Duchovny and Anderson exude comfort and chemistry with each other, slipping back into the Mulder-Scully dynamic without missing a beat. Although their personal relationship has always been sweet, it takes on new dimensions this time and makes the audience's investment in these characters pay off emotionally. Duchovny still uses his offhanded wit to cope, while Anderson's sensitive portrayal makes Scully someone we can care deeply about. Peet and Joiner are fine new additions to the X-Files family, but neither makes a vivid impression in their limited screen time. Standing out in the role of an aging Catholic priest with a shady history, Connolly, the Scottish standup comedian-turned-actor, displays strong dramatic chops, creating an intriguing three-dimensional role out of one that might have seemed far less on the page. The rest of the cast falls into the realm of stereotypical movie-thriller types; none make much of an impact.
But in the end the fate of X-Files: I Want to Believe lies in its stars, and they deliver, especially if you want to believe.
Genre: Thriller
Directed by: Chris Carter
Written by: Chris Carter and Frank Spotnitz
Starring: David Duchovny, Gillian Anderson, Billy Connolly, Amanda Peet, Alvin "Xzibit" Joiner