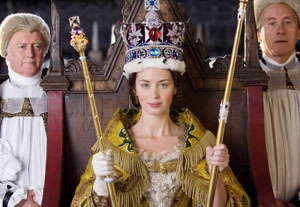 On the surface, "The Young Victoria" could have been just another drab costume drama. But somewhere along the way, producers Graham King and Martin Scorsese got the bright idea to hire screenwriter Julian Fellowes ("Gosford Park") to pen the script, and he has infused it with such style and life that it may just be the year's most captivating love story. This meticulously crafted and wonderful new romantic film sweeps you into its majestic spell and never lets go.
It's rather surprising no one previously thought to make a commercial film about the early years of England's longest-reigning monarch. The image most of us have of this queen (played in this film by Emily Blunt) is one of a woman always in mourning draped in black veils. Fellowes, working from a spirited pitch by co-producer Sarah Ferguson, Duchess of York, has created a thrilling tale of a sheltered young woman thrust into extremely difficult situations she must overcome in the early, topsy-turvy years of her reign. Most important, it chronicles her romance and eventual marriage to Prince Albert (Rupert Friend), a man every bit her match in fire and determination.
At first their relationship gets off to a rocky start, as it appears obvious that he has been sent by her uncle, King Leopold of Belgium (Thomas Kretschmann), to woo her. Despite this, they become genuine friends, something that deepens when he returns to London to witness her coronation. When things get rocky in the early part of her reign, she realizes she needs him, and a royal wedding takes place. Conflict, political intrigue, and a tempestuous relationship ensue—one defined by a unique partnership in love and business.
Filming on a fairly low budget for this kind of sweeping epic, director Jean Marc Vallee makes every sumptuous moment count at grand locations. At the center of it all is the brilliantly talented and enchanting Blunt, proving she is one of the finest female actors of her generation. She invests her Victoria with real grit and command, etching a portrait of a young woman who, despite her extraordinary circumstances, is not different from many others her age when it comes to affairs of the heart. Given her first major leading role, Blunt runs with it and makes us understand a queen long misunderstood. As Albert, Friend is perfectly cast to play a prince who is no pushover as he looks for his place not only in Victoria's heart but also the complex world in which he now finds himself. Paul Bettany is very fine as Lord Melbourne, the prime minister and sole adviser to the queen, while Kretschmann has a couple of nice moments. The wonderful Miranda Richardson is right on as Victoria's overreaching mother, the Duchess of Kent; and there are brief but welcome contributions from Jim Broadbent as King William and Mark Strong as the Duchess of Kent's adviser.
Genre: Drama
Written by: Julian Fellowes
Directed by: Jean Marc Vallee
Starring: Emily Blunt, Rupert Friend, Paul Bettany, Miranda Richardson, Jim Broadbent, Thomas Kretschmann, Mark Strong, Harriet Walter