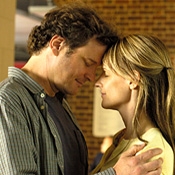 Helen Hunt is a first-rate actor. Regrettably, the same cannot be said for her talents as a director and screenwriter, at least not on the basis of Then She Found Me, a chick flick that is jaw-droppingly awful; from its unmotivated characters to its implausible story line awash in clichés and coincidences. Inspired by Elinor Lipman's novel of the same name, the film raises questions about Hunt, who also produced and stars. What possibly drew her to this? Certainly not the opportunity to play April Epner, a character not all that removed from others Hunt has tackled.
April is a 39-year-old schoolteacher whose biological clock is ticking. She is desperate to get pregnant, especially since she was adopted and feels a missing blood link in her life. The self-imposed pressure to conceive puts a strain on her already tenuous marriage to the childish, nerdy Ben (Matthew Broderick), who decides he wants out. The day he bolts, April's adopted mother dies, and then April falls madly in love with Frank (Colin Firth), the parent of one of her students. Out of the blue, April's birth mother, Bernice (Bette Midler), surfaces, determined to get to know the daughter she abandoned as an infant. The twists and turns of fate throughout are relentless, topped only by the bizarre casting of Midler as Hunt's mom.
But it gets better. April discovers she is six weeks pregnant with Ben's child and of course wants to have the baby, though she is seriously involved with Frank. As it turns out, the two men seem open to her having the child and both accompany her to the gynecologist, played by the internationally celebrated novelist Salmon Rushdie. Can it get wilder than this? (Admittedly, this isn't Rushdie's first time on film; he had a cameo appearance in Bridget Jones's Diary.)
With a few exceptions, the performances, including Rushdie's, seem workmanlike, at least within the parameters of this wretched material. But it's hard to gauge. Broderick, for example, does the most he can with a character whose abrupt impulse to move back with his mother is no more accounted for than his reappearance in April's life, quickly followed by another disappearing act. Similarly, in a scene involving an explosive encounter between Frank and April, Firth gives Frank's feelings of rage and pain his best shot, though it's unclear what Frank is enraged and in pain about. Likewise, Hunt believably evokes contrition in light of the wound April has inflicted. But again, exactly what the character has done is vague; it certainly doesn't warrant the outpouring of wordy regret. None of it is helped by the lack of chemistry between Firth and Hunt.
Oddest, however, is Midler's performance. While she is believable as a New Age talk show host yenta, her sudden appearance in her daughter's life makes no sense, and it's never satisfactorily explained. When we first encounter her, she almost seems to be a conniver who wants to bring April onto her show for ratings. This never happens. Instead, Bernice becomes warm and fuzzy, though that too comes out of nowhere. In one of the most manipulative scenes in the movie, she begs April, who has lost faith in God, to pray. In all fairness, Hunt performs that moment convincingly. Still, when the two women hold hands and pray, it's absurd. But let's be grateful for one thing: The prayers remain unanswered. It's a rare moment of truth.
Helen, stick to your day job.
Genre: Drama
Directed by: Helen Hunt
Written by: Helen Hunt, Alice Arlen, Victor Levin
Starring: Helen Hunt, Colin Firth, Bette Midler, Matthew Broderick