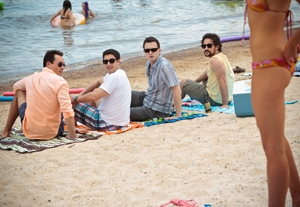 In the 13 years since "American Pie" became an unlikely R-rated hit in July 1999, the series has produced two successful sequels and four straight-to-video knockoffs, as well as helped give birth to a new wave of raunchy summer comedies such as "Superbad" and "Bad Teacher." The franchise's latest installment, "
American Reunion
," brings back the old gang for a high school reunion, which allows for more sexual high jinks and some newfound self-reflection on the challenges of marriage and careers. But while there's undeniable nostalgic delight in seeing these familiar faces together again, the movie's mixture of crassness and poignancy seems oddly tame in comparison with the original-to say nothing of the envelope-pushing films it inspired. Still, it's incredibly comforting to have the great Eugene Levy reprise his role as Jason Biggs' lovably nerdy dad. And, yes, Seann William Scott remains a hoot playing the loudmouthed jerk who refuses to grow up.
Director Whit Stillman's last film, "The Last Days of Disco," came out a year before "American Pie," so it's an overdue treat to have him back 14 years later with the wry comedy "
Damsels in Distress
." Focused on a college clique led by the haughty, opinionated Violet (Greta Gerwig), the movie follows the usual Stillman plot line: Lots of smart, young people deliver dry, erudite one-liners while they fumble around in matters of the heart. "Damsels in Distress" may be little more than a witty confection, but Gerwig and her co-stars so gracefully immerse themselves in Stillman's precise, arch dialogue that you surrender to the pleasures of these young ladies' company.
There's nothing so warm or inviting about the world of "
The Hunter
," a character drama starring Willem Dafoe as a lone-wolf mercenary who's been hired to travel to Tasmania to track down an extremely rare breed of tiger. Though not as singular as 2010's "The American" (which featured one of George Clooney's best performances), "The Hunter" equally makes great use of a compelling actor playing a man so cut off from society that he's lost the ability to connect with anyone. The mercenary's character arc is relatively easy to guess from the outset, but the remote Australian locales give the proceedings a genuine otherworldliness.
A hunt of a different kind takes place in "
ATM
," which pits a trio of 20-something investment brokers against a mysterious killer whose face is concealed underneath the hood of his winter jacket. This overheated thriller's high-concept hook is that the brokers' only sanctuary during the late-night face-off is an ATM booth, which keeps the killer out but also leaves them trapped. An intriguing idea, but the problem comes from trying to extend the premise into a full-length feature, which becomes more contrived as it moves along. Brian Geraghty, the charismatic star of "The Hurt Locker" and "Easier With Practice," leads the cast, who will all hopefully find better film work soon.
Experimental filmmaker Guy Maddin's movies often resemble surreal, half-remembered dreams of old black-and-white melodramas that may or may not have ever existed. His latest, "
Keyhole
," re-imagines "The Odyssey" as a haunted-house gangster tale, and once you acclimate to its loopy wavelength, the movie's bizarre spell starts to take hold. Jason Patric plays Ulysses Pick, who must navigate through his treacherous home to reunite with his wife (Maddin regular Isabella Rossellini). An atmospheric experience more than a riveting yarn, "Keyhole" relies on its strong acting as an anchor, and Patric provides the right amount of hard-boiled intensity and mournful sensitivity.
The Italian comedy-drama "
We Have a Pope
" has a captivating concept but shoddy execution. The pope has just died, and so a new pontiff must be elected. But what would happen if the man selected for the position, Cardinal Melville (Michel Piccoli), felt so intimidated by the enormity of the job that he didn't want it? Director Nanni Moretti gives himself the part of a psychiatrist assigned by the Vatican to help Melville, but the many intriguing directions the story could go-exploring the Catholic Church's recent struggles, debating religion versus science-are abandoned for an overly cutesy, feel-good tale. It's always a pleasure to watch Piccoli, whose career stretches back to "Contempt" and "Belle de Jour" in the '60s, but "We Have a Pope" strands him in a role unworthy of his legendary status.
Last, if you're upset that this weekend doesn't feature any comic-book movies, Morgan Spurlock, the documentary filmmaker behind "Super Size Me," brings us "
Comic-Con Episode IV: A Fan's Hope
," a look at the many different sorts of folks who visit the annual San Diego superhero convention. We meet everyone from the worried comics dealer whose business depends on significant Comic-Con sales to the giddy fans who dress up as their favorite characters. Spurlock's subjects are a passionate bunch. Too bad his glib, slick documentary doesn't feel comparably invested in really examining this vivid, oft-stereotyped milieu.