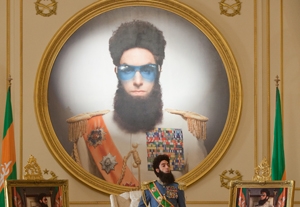 Lots of stuff blows up in "
Battleship
," an alien-invasion blockbuster more fun than it probably should be. Taylor Kitsch plays a Navy screwup who's about to get booted out of the military when ass-kicking interstellar beings arrive on Earth to claim the planet for themselves. As you might expect, "Battleship" is a lowest-common-denominator mix of "Independence Day" and every Michael Bay movie imaginable, but the film's propulsive pace and goofy earnestness are enough to keep you from caring how junky the whole endeavor is. As he did in "John Carter," Kitsch mostly just exudes a dopey, stoner vibe as the unlikely hero who has to save the human race, which still makes him more compelling an onscreen presence than Rihanna as the film's token female action figure.
Sacha Baron Cohen's latest, "
The Dictator
," is never less than enjoyable but never particularly inspired, either. This gleefully vulgar comedy stars Baron Cohen as an arrogant tyrant who finds himself stripped of power and working in an eco-friendly New York grocery run by liberal-minded Zoey (Anna Faris). "The Dictator" doesn't feature any of the gotcha interviews of "Bruno" or "Borat," but you'll hardly miss them thanks to Baron Cohen's endearingly dopey performance, which anchors the film's uneven mixture of silly and crude humor. His bigger-name co-stars, Faris and Ben Kingsley, don't add much, but Jason Mantzoukas (from the TV shows "The League" and "Enlightened") practically steals the film as the dictator's former nuclear scientist who enjoys letting him know when he's done something stupid, which happens frequently.
Speaking of stupid, "
What to Expect When You're Expecting
" looks to capitalize on the formula of those insipid "Valentine's Day"/"New Year's Eve" movies in which a bunch of different characters experience a momentous event -- in this case, childbirth -- with oh-so-hilarious results. Unfortunately, "Expecting" never rises above a shallow, sitcom approach, forcing its starry cast (including Jennifer Lopez, Cameron Diaz, Elizabeth Banks, and Dennis Quaid) to play obnoxious simpletons because, ha-ha, having a baby is just really zany. Amid the lazy gender stereotypes, only a few actors escape unscathed, notably Ben Falcone as a supportive husband and expectant father. His is the only character that resembles a grownup.
If the idea of a movie about the invention of the vibrator makes you giggle, you'll probably titter away during "
Hysteria
." This genial comedy stars Hugh Dancy as Mortimer Granville, a prim-and-proper London doctor in the 19th century specializing in female medical issues, which require him to manipulate his patients' private areas to relieve their symptoms. "Hysteria" is far too pleased with its mild naughtiness, but Maggie Gyllenhaal, playing Mortimer's verbal sparring partner and possible love interest, is simply too delightful a presence to deny. She has given stronger, deeper performances, but she has never made you fall in love with her spunky charm the way she does here.
Samuel L. Jackson's big movie this month is obviously "The Avengers," but the low-budget indie "
The Samaritan
" gives him the space to deliver a strong, weathered performance as a con man recently released from prison who gets lured back into his old life. Director David Weaver's noir possesses a palpable compassion for its haunted main character, and the film unleashes a nasty plot twist about halfway through. But whether it's Ruth Negga's one-note femme fatale or Tom Wilkinson's scene-chewing crime lord, "The Samaritan" can't completely transcend the mundanity of its B-movie setup.
The storyline of "
Elena
" may seem mundane, but this remarkable Russian film has plenty of unsettling themes bubbling underneath. Elena (Nadezhda Markina) and Vladimir (Andrey Smirnov) are a middle-aged couple who have only been married for a few years, their one bone of contention being the wife's deadbeat son (Aleksey Rozin) from a previous marriage. When the affluent Vladimir refuses to help pay for college for Elena's grandson, she finds herself needing to balance the demands of her family and her obligation to her husband. Her unexpected solution is the catalyst for a richly ambiguous moral drama in which every character takes on complicated shades of gray. The small cast all do exceptional work, but Markina stands out as a loyal mother and wife whose silent face expresses years of bottled-up feelings.
The French police drama "
Polisse
" will draw comparisons to such television series as "The Wire" and "Law & Order: Special Victims Unit," but this film's daring mix of tones is uniquely its own. Inspired by actual events in Paris' Child Protection Unit, "Polisse" follows a group of cops investigating accused child molesters, which leaves an emotional toll that probably explains why their personal lives are disasters. Rather than feeling like an overblown soap opera, "Polisse" has an unpredictable edginess in which dark humor, utter sadness, and a few faint moments of hope are all allowed equal consideration. The result is a movie whose talented cast, including Frédéric Pierrot and rapper Joeystarr, explore how a heartbreaking, high-stress job can quietly eat away at the soul.