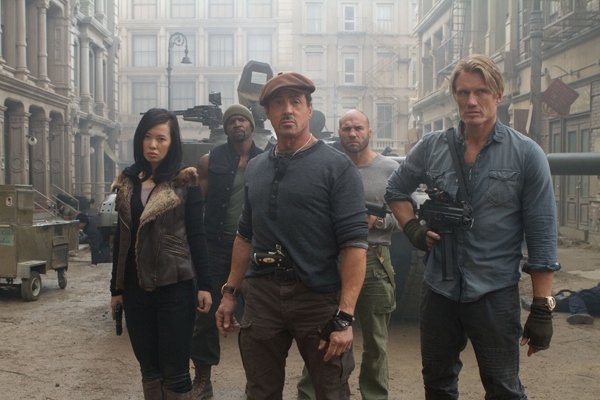 Bigger turns out to be better in "The Expendables 2," which ups the star wattage and body count from the 2010 original, resulting in a movie that's comparably ludicrous but more grippingly constructed. This action onslaught stars Sylvester Stallone and his ragtag group of mercenaries as they square off against a bloodthirsty villain (Jean-Claude Van Damme) on the search for black-market plutonium. New faces Liam Hemsworth and Yu Nan help elevate the film's dramatic heft, but the chief appeal of this sequel is the inspired carnage unleashed by this motley crew of box office has-beens. (As always, Jason Statham is poetry in motion as he cracks skulls while flipping through the air.) Granted, "The Expendables 2" probably doesn't have any redeeming social value, but don't let that stop you from enjoying the hell out of it.
"The Odd Life of Timothy Green" initially hints at the thought-provoking drama it could be, but this family film instead settles for being blandly "magical." Unable to conceive children, Jim (Joel Edgerton) and Cindy (Jennifer Garner) discover one night that their ideal son has popped out of their garden in the form of sweet 10-year-old Timothy (CJ Adams). Writer-director Peter Hedges flirts with the provocative notion that parents sometimes use their children as tools to avenge their own adolescent miseries, but on the whole "Odd Life" slavishly follows its supernatural, tear-jerking formula, forcing Edgerton and Garner to play self-absorbed nitwits whose eventual redemption doesn't feel earned.
The year's best animated offering thus far is "ParaNorman," a film with a nicely dark surface and a beautiful heart underneath. Young horror-movie fanatic Norman (voiced by Kodi Smit-McPhee) can communicate with the dead, but when an ancient witch's curse threatens to destroy his small town, the lovable, sensitive oddball must defeat the encroaching demons. Though "ParaNorman" occasionally devolves into action-comedy slapstick, this stop-motion treat is a touching reinvention of ugly-duckling clichés that benefits from Nelson Lowry's wonderfully macabre production design. The film's fine voice cast also includes Anna Kendrick, Casey Affleck, John Goodman, and Elaine Stritch, as Norman's kindly grandmother, who won't let being deceased stop her from keeping an eye on him.
Singer Jordin Sparks may have been beloved on "American Idol," but she's badly off-key "Sparkle." This musical drama, a remake of the 1976 film that starred Irene Cara and Lonette McKee, features Sparks in her movie debut as a budding songwriting genius who pens all the hits for her vocal trio that includes her two sisters. But when will she be as assertive a performer as her gorgeous sis Sister (Carmen Ejogo)? "Sparkle" pays homage to the Motown sound of the 1960s, but it has not one interesting thing to say about sibling rivalry, art, relationships, or anything else. Sparks seems likeable enough, but the fierce, sexy Ejogo easily outclasses her. Ultimately, this film will probably be best remembered for containing Whitney Houston's final performance. Unfortunately, like the movie itself, she seems to be going through the motions as the sisters' unsupportive, protective mother.
A Midwestern fast-food establishment is the setting for "Compliance," a brilliant drama about blind allegiance to power. Ann Dowd plays Sandra, an unhappy middle-aged manager who receives a call from the police that a customer has had money stolen out of her purse by bored employee Becky (Dreama Walker). Becky denies the charges, but Sandra wants to obey the cop (voiced by Pat Healy) on the phone, and so begins a fascinating psychological study in which we start to realize everything is not what it seems. Clinical but also deeply compassionate, "Compliance" demonstrates in detail how seemingly bright people can be persuaded to do horrible things. Dowd is magnificent as the harried manager, as is Walker as the young woman who has walked into a nightmare. Perhaps best of all is Healy, using only his voice to suggest everything from calm authority to vague malice.
Judging from Robert Pattinson's recent non-"Twilight" roles, directors enjoy using his beautiful blankness to evoke soullessness. He didn't fare well with this summer's "Bel Ami," but he's on firmer ground with "Cosmopolis," writer-director David Cronenberg's unsettling adaptation of Don DeLillo's 2003 novel, which concerns hotshot billionaire Eric Packer (Pattinson) spending his day drifting through Manhattan in his souped-up limo. Sporting intentionally mannered dialogue and Cronenberg's patented icy remove, "Cosmopolis" is cold to the touch, offering an apt metaphor for a society in which wealth and technology have stripped the powerful of their humanity. Pattinson doesn't shine in the role, but that's not what's required. Instead, that blankness becomes a handsome mask concealing a cruel spirit.
If "Cosmopolis" sounds too chilly for your temperament, the warm, crowd-pleasing "Robot & Frank" may tickle your sensibilities. Set in the near future, the film stars Frank Langella as an aging jewel thief whose memory is fading. Unsure what to do, his adult children put him in the care of a friendly service robot (voiced by Peter Sarsgaard) who's meant to look out for him. At first wary of this bucket of bolts, the thief befriends his companion when he realizes it might make the perfect partner in crime. A mix of heist comedy and mortality drama, "Robot & Frank" is well-served by Langella's slippery performance as a proud man who can't let go of his criminal tendencies and Sarsgaard's cleverly understated turn as his unemotional, straight-man sidekick.
"Chicken With Plums" tells the whimsical tale of Nasser-Ali Khan (Mathieu Amalric), an Iranian violinist who has lost the will to live after his instrument breaks. As Nasser-Ali stays in bed waiting for death to come, writer-directors Marjane Satrapi and Vincent Paronnaud (who collaborated on the animated "Persepolis") flash back to his younger years to investigate what brought the artist to this sad state. "Chicken With Plums" can be too precious for its own good—its themes of fate and unrequited love are a touch heavy-handed—but Amalric embodies the film's melancholy tone in one regretful look after another.
Film buffs—by which I mean devotees of celluloid, the principal motion-picture medium of the last century—should seek out "Side by Side," Christopher Kenneally's engaging documentary that chronicles the growing debate over the rise in digital moviemaking. Co-produced by Keanu Reeves, the film follows the actor as he interviews directors, cinematographers, and technicians to discuss the future of movies, and both sides of the film-versus-digital argument are given ample time to defend their position. "Side by Side" may tilt its allegiance toward digital's potential, but this documentary's thoughtfulness is such that it also honors the enduring value of the analog image.