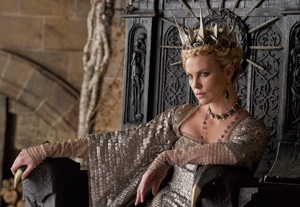 Though blessed with rugged, movie-star good looks, Josh Lucas has often conveyed merely an earnest blandness in his roles, a deficiency that keeps him from being the most scintillating of screen presences. That same problem afflicts "
Hide Away
," a modest character piece that never quite proves to be as probing or memorable as it would like. Lucas plays a married man separated from his family -- we're not sure why, but soon it becomes rather obvious -- who starts over by repairing a rundown sailboat that's become his new home. The cast also features Ayelet Zurer and James Cromwell, who make their characters' minuscule lives resonate with quiet dignity. But the film's well-observed small moments and emotional sincerity don't compensate for what ultimately is yet another predictable story about a man trying to make peace with a traumatic past.
"Traumatic" doesn't even begin to describe the experience of watching the painfully unfunny "
High School
." This teen stoner comedy stars Matt Bush as Henry, a straight-arrow senior who's just days away from being valedictorian. But when Henry is coaxed into getting high for the first time by a pothead classmate (Sean Marquette), panic sets in after the school institutes mandatory drug testing for the following day, which puts his MIT scholarship at risk. Henry and his bud's plan? Get the whole school stoned on pot brownies, which puts in motion a series of crass, tired gags in which most of the cast have to walk around acting like imbeciles. The only thing that saves "High School" from being utter drivel is Adrien Brody's bizarrely loopy performance as a tattooed drug dealer with barely a brain cell to his name. He's still easily the smartest character in the film.
Those who wonder what Kristen Stewart's career might look like post-"Twilight" will be plenty discouraged by "
Snow White and the Huntsman
," a big-budget fantasy-adventure that would very much like to be "The Lord of the Rings." This dark retelling of the classic fairy tale stars Stewart as Snow White, who's on the run from the evil queen Ravenna (Charlize Theron). Her sole protector is a rugged huntsman (Chris Hemsworth) still haunted by the death of his beloved wife. Though definitely grittier than this spring's cheeky "Mirror Mirror," "Snow White and the Huntsman" drowns in its lavish grimness, and it's not helped by performances that confuse humorlessness with powerful emoting. Stewart makes for a decidedly drab warrior princess, although she's complemented by Hemsworth's equally monotonous growling intensity. (Even the dwarves, played by fine actors like Ian McShane and Toby Jones, look like they want to go home.) The only actor who seems to have a pulse is Theron, who makes her villain a bitchy, almost campy delight. Perhaps she's not the fairest of them all, but she's definitely the most compelling.
An epic in length but certainly not in its visceral impact, "
For Greater Glory
" dramatizes Mexico's Cristero War of the 1920s, which was a response to the new government's persecution of Catholics. Andy Garcia does his best stirring-war-hero routine as Enrique Gorostieta Velarde, the retired general who led the rebels against the power-hungry President Plutarco Elías Calles (a slightly hammy Rubén Blades). But whether it's the musty behind-the-scenes politicking or the subpar battle scenes, "For Greater Glory" resembles a warmed-over version of one of those multi-night miniseries that used to air on TV back when there were only three networks. You'll learn some Mexican history by watching the film, but the members of this cast, which includes Eva Longoria, Peter O'Toole, Catalina Sandino Moreno, and Bruce Greenwood, have all been far better elsewhere.
A different, much more current conflict forms the backdrop for "
5 Broken Cameras
," a somber documentary that spotlights the tensions between Palestinians and Israelis. As its title suggests, the movie chronicles a five-year period in which Emad Burnat, an impoverished Palestinian farmer, had five camcorders destroyed while filming his village's protests over an encroaching Israeli settlement. "5 Broken Cameras" is put together almost entirely out of Burnat's vérité footage, which includes violent skirmishes with law enforcement, but while the movie is deeply critical of Israeli policy, it's also an alarming document about the ways cultural conflicts are passed down from generation to generation, poisoning any hope for resolution.
The fascinating documentary "
Pink Ribbons, Inc.
" examines a topic you probably never question -- the breast-cancer awareness movement -- and exposes a wealth of hypocrisy and questionable leadership decisions. Filmmaker Léa Pool investigates why the popular pink ribbon campaign, though well intentioned, might be doing a great disservice to those trying to eradicate the disease, highlighting how corporations wanting to capitalize on the movement have succeeded in systematically weakening the campaign's message. Thought-provoking at every turn, "Pink Ribbons, Inc." argues convincingly that our society's response to cancer -- throwing money indiscriminately at the problem, focusing on treatment rather than prevention, dressing up the illness in the comforting color pink -- has done very little to combat a disease that still kills with alarming frequency. In calm, straightforward fashion, Pool has crafted an enraging portrait of how easily good causes can get corrupted.