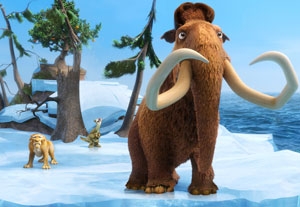 Unlike the Pixar animated films, Fox's "Ice Age" series gears more to younger viewers. Parents along for the ride are forced to fend for themselves. The latest sequel, "Ice Age: Continental Drift," is a constant visual delight, but it occasionally can be murder on the ears due to the hokey jokes and saccharine life lessons. In this new film, Manny (voiced by Ray Romano), Diego (Denis Leary), and Sid (John Leguizamo) must reunite with the rest of the herd but are confronted by the fearsome pirate gorilla Captain Gutt (Peter Dinklage). "Continental Drift" sports a few decent action sequences, and the movie is ultimately pretty harmless if never really that heartwarming or inspired. Still, your kids will probably eat it up.

When last we heard from Spanish filmmaker Rodrigo Cortés, he was scaring the hell out of Ryan Reynolds in the claustrophobic 2010 thriller "Buried." His new film "Red Lights" isn't nearly as effective, telling the story of two paranormal investigators (Sigourney Weaver and Cillian Murphy) out to expose a legendary blind psychic (Robert De Niro) who's returned after three decades in seclusion. Aspiring to be a bold psychological thriller, "Red Lights" gets bogged down in dopey horror-movie conventions, although you have to credit the cast for delivering committed performances in what's an otherwise preposterous creep fest.

Since her breakthrough in "Slumdog Millionaire," Freida Pinto has tried her hand at mainstream blockbusters ("Rise of the Planet of the Apes") and controversial art-house fare (the Palestinian-based drama "Miral"). "Trishna" finds Pinto again unafraid to take on heavy dramatic fare, playing the titular Indian woman who falls in love with a rich charmer (Riz Ahmed, best known from "Four Lions") who offers to help her family by employing her in one of his father's hotels. A pulsating snapshot of modern India, "Trishna" adapts Thomas Hardy's "Tess of the d'Urbervilles," changing location and time period but focusing on a love affair that's threatened by class differences. Pinto is just right as the sweet, innocent, evolving Trishna, but Ahmed is the real discovery, playing a well-meaning lover unaware of his own cruelty.

The superb 2009 Greek drama "Dogtooth" was one of the most unsettling films of recent years, depicting a family whose patriarch chose to wall his teenage children away from the world, creating a twisted parallel reality within his home. (Amazingly, "Dogtooth" landed an Oscar nomination for best foreign language film.) Its maker, Yorgos Lanthimos, returns with "Alps," which isn't as disturbing, but not by much. The film introduces us to a team of surrogates (including Aggeliki Papoulia and Ariane Labed) who are hired by families to fill in for their recently deceased loved ones. "Alps" doesn't have the pronounced shocks of "Dogtooth," opting instead for a subtler investigation into human behavior, but the cast's deadpan melancholy grips in its own way, resulting in a thoughtful drama about the nuances of grieving.

The final days of Marie Antoinette's rule are the subject of "Farewell, My Queen," an atmospheric but dramatically wan French drama. Léa Seydoux plays Sidonie, a reader for the queen (Diane Kruger) living in Versailles while the winds of revolution swirl outside the palace walls. Seydoux hints at the calculation going on behind Sidonie's emotionless eyes, but Kruger proves too glassy to project anything beyond Marie Antoinette's ethereal beauty, severely diminishing any intrigue. With that said, director Benoît Jacquot does a nice job of draping the film in a gloomy unease, giving "Farewell, My Queen" almost the air of a post-apocalyptic thriller as Sidonie feels the encroaching danger of the barbarians at the gate.

"The Imposter" is a documentary with the soul of a whodunit, and it's best if you know as little about the events depicted as possible. The film retells the story of the 1994 disappearance of Texas teen Nicholas Barclay, who miraculously reunited with his family a few years later. What happened to him? And why does he seem so different? As its title suggests, "The Imposter" examines how that seemingly happy ending was only the beginning of a widening nightmare, and unfortunately director Bart Layton sometimes oversells the shock value of his tale. Still, this is a blood-chilling portrait of opportunism that will remind you that monsters exist in all forms -- even smiling innocents.

A real-life companion piece to the underappreciated 2008 drama "Sugar," "Ballplayer: Pelotero" is a sobering documentary about the hard road Dominicans must travel to fulfill their dreams of being professional baseball players. Focusing on two rising stars, Miguel Angel Sano and Jean Carlos Batista, the film shows how poverty and corruption conspire to create an environment of mutual distrust between team scouts and individual players. At 73 minutes, "Pelotero" could have benefited from more analysis -- it feels like a thumbnail sketch rather than an exhaustive overview -- but hopefully it'll open the door to more conversation about major-league baseball's (mis)treatment of its overseas talent.