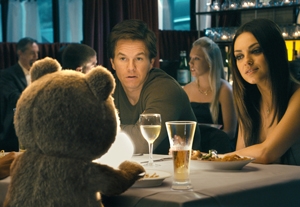 Despite his box office success, Channing Tatum has had a hard time getting critics to take him seriously. (Starring in "Dear John" and "G.I. Joe: The Rise of Cobra" can do that to a guy.) Ironically, his performance in the deceptively lighthearted comedy "Magic Mike" might change that, as his turn as the titular stripper is both confident and charmingly soulful. Inspired by Tatum's own experiences as an exotic dancer in Tampa, Fla., "Magic Mike" co-stars Alex Pettyfer and Matthew McConaughey, and while the film's highlights include the energetic, cheeky onstage performances, the story's soul emanates from Tatum, who ably plays a happy-go-lucky dreamer slowly realizing that a possibility for a meaningful life is falling away as quickly as his clothes.

"Family Guy" honcho Seth MacFarlane makes the leap to features with "Ted," and his comedic style remains intact -- unfortunately. The film tells the story of John (Mark Wahlberg), who has never grown out of his love for his best buddy, Ted (voiced by MacFarlane), even though he's a teddy bear. But when John and his girlfriend Lori (Mila Kunis) start getting serious, it might mean the end of his bromance with Ted. Pop-culture detritus and 9/11 jokes are the M.O. here, and while Wahlberg is agreeably dopey as a regular guy, the humor's relentless mean-spiritedness takes its toll. At least Joel McHale has some fun as Lori's smug, lecherous boss.

With "Star Trek" and "This Means War," Chris Pine seemed committed to cornering the market on ultra-cocky hotheads. He finds another such character to play in "People Like Us," a drama in which his smooth-talking, soulless New York salesman travels to Los Angeles for the funeral of his distant father. Once there, he discovers that he must deliver a sizable inheritance to a sister (Elizabeth Banks) he never knew he had. "People Like Us" would have worked better if it had dialed down its overheated, manipulative emotional jolts, and by now it's becoming somewhat predictable watching Pine portray a man-child who needs to grow up. As for Banks, she projects real vulnerability as a down-on-her-luck bartender, but the filmmakers never develop the character into something more than a Hollywood cliché of lower-class martyrdom.

"Beasts of the Southern Wild" takes place in a section of rural Louisiana untouched by modern life. The residents, most notably youngster Hushpuppy (newcomer Quvenzhané Wallis), live in makeshift homes by the river, but when the waters start to rise, will they be able to survive? The winner of Sundance's Grand Jury Prize, "Beasts" is an ambitious, visually arresting fable that benefits greatly from natural, rugged turns from Wallis and Dwight Henry as her father. Yet I confess to finding the film, though accomplished, to be more than a touch precious and overly symbolic. Nonetheless, first-time director Benh Zeitlin has declared himself a bold craftsman -- now we wait to see where he goes from here.

Actor-turned-filmmaker Sarah Polley made her striking directorial debut with 2007 drama "Away From Her." Her follow-up, "Take This Waltz," is a bit uneven but considerably affecting. Michelle Williams plays Margot, a young married woman who's helplessly drawn to a seductive artist (Luke Kirby) living across the street from her and her sweet-natured husband (Seth Rogen). Indie romantic triangles are a dime a dozen, but the strength of "Take This Waltz" is how carefully Polley and her cast observe these characters, adroitly illustrating why Margot would be attracted to two very different men who represent her conflicted feelings about adulthood. All three leads impress, but the revelation is Kirby, who delivers one of the most erotic monologues in recent memory, seducing Margot and the audience at the same time.

While it would be inaccurate to call "Unforgivable" a thriller, it most certainly is the tensest of dramas. Celebrated crime novelist Francis (André Dussollier) has recently married the beautiful Judith (Carole Bouquet), but despite his happiness he cannot shake the feeling that she's having an affair. Francis' course of action allows French director André Téchiné to dabble in film noir, but what resonates deepest is these characters' prickly humanity and inability to resist their worst impulses. Bouquet is just right as the enigmatic lover whose motivations aren't always entirely clear, while Dussollier wears every inch of Francis' insecurity on his handsome, weathered face.

"Neil Young Journeys" is the latest installment in director Jonathan Demme's three-film portrait of the hugely influential, iconoclastic singer-songwriter -- and it may be the best. This documentary follows Young as he visits his Canadian hometown of Omemee and plays solo shows in Toronto. As with "Neil Young: Heart of Gold" and "Neil Young Trunk Show" the mood is warmly nostalgic, but Young remains an undeniably compelling presence, whether he's ripping through songs from his recent rock album "Le Noise" or cracking jokes offstage about the days that used to be. For anyone who's been enjoying Young's artistry for the last 40-plus years, there's something downright stirring about the film's nonchalant tribute to the man's enduring ineffableness.