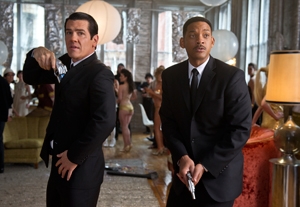 It's been four years since Will Smith appeared in a film, a lifetime for a movie star. Happily, his return in "
Men in Black III
" reveals little signs of rust. Very much following the funny/scary template of the successful 1997 original (and the rather unfortunate 2002 sequel), the new film reunites Smith with laconic sidekick Tommy Lee Jones to battle a particularly nasty creature (played by Jemaine Clement) who has gone back to 1969 to kill Jones. This requires Smith to do some time-traveling to save his partner, and it also allows for Josh Brolin to essay a dead-on impression of a younger Jones. A little threadbare but reliably funny, "Men in Black III" ends up being more than just the enjoyable odd-couple byplay between Smith and Jones -- and later, between Smith and Brolin. There's also the strong supporting cast that includes Emma Thompson, Alice Eve, and especially Michael Stuhlbarg as a multidimensional alien who helps the MIB team, providing just the right combination of humor and sentiment to a sequel that's nicely stuffed with both.
"
Moonrise Kingdom
" is director Wes Anderson's first live-action film since 2007's "The Darjeeling Limited," and it's his most wistfully romantic. Set in New England in the 1960s, the film stars newcomers Jared Gilman and Kara Hayward as 12-year-old outcasts who are drawn to each other and decide to run away. This comedy features an impressive cast, including Bruce Willis, Edward Norton, Bill Murray, and Frances McDormand as the adults who try to track down the kids, but "Moonrise Kingdom" belongs to its young performers, who make the beautiful naiveté of youthful love resonate through their every melancholy glance.
Feel-good films sometimes get dismissed as being manipulative, but a well-made one taps into genuine emotions without pulling your levers. Such is the case with "
The Intouchables
," a fluffy French comedy-drama based on the true story of a rich white quadriplegic (François Cluzet) and the impoverished black caretaker (Omar Sy) who became his confidant. It's no surprise that each man will teach the other meaningful life lessons, but the consistently discriminating screenplay largely sidesteps platitudes about race relations or economic disparity for a funny, touching meeting of the minds. Both men give buoyant performances, but also superb is Audrey Fleurot, who plays Cluzet's assistant and, perhaps more important, the ravishing, spitfire beauty whom Sy is obsessed with wooing.
While "The Intouchables" will leave you with a grin on your face, the excellent Norwegian drama "
Oslo, August 31st
" inspires contemplative silence as you exit the theater. The moving film stars Anders Danielsen Lie as Anders, a 30-something recovering drug addict who spends a day away from his rural treatment center to visit friends and family in the city. Rather than your traditional tale about the perils of addiction, "Oslo, August 31st" uses its main character's habit as a metaphor for all the regrets and failings of adulthood. (Indeed, everyone that Anders comes across seems to be coping with life's dreariness as poorly as he is.) Moving from one quietly affecting scene to the next, "Oslo, August 31st" is compassionate yet clear-eyed about people's astounding ability to methodically destroy themselves.
Another form of self-destruction provides the driving force for "
Mighty Fine
," a period drama about a Jewish family from Brooklyn (led by Chazz Palminteri) that moves to New Orleans in the 1970s. Palminteri's family patriarch has big plans for his clothing business, but his simmering anger issues threaten to upend hopes for a fresh start. Inspired by writer-director Debbie Goodstein-Rosenfeld's childhood, "Mighty Fine" may prove therapeutic for her, but this tepid coming-of-age tale, told from the perspective of shy younger daughter Natalie (Jodelle Ferland), doesn't offer much insight. Still, Palminteri proves an imposing presence as the emotionally erratic father, able to switch from gregarious to monstrous in a heartbeat.
Horse lovers may savor "
Cowgirls n' Angels
," but anyone over the age of 10 will probably find the whole endeavor fairly predictable. Twelve-year-old Bailee Madison -- who's already put together a hefty list of film credits with "Bridge to Terabithia," "Don't Be Afraid of the Dark," and "Just Go With It" -- stars as Ida, an ornery Oklahoma gal who joins up with a group of traveling female trick riders in hopes of hunting down her cowboy father, who left her and her mother when she was very young. There's a bland sweetness to Ida's journey of self-discovery, but the pokey narrative mostly just doles out programmatic emotional twists so that the characters are crying, yelling, or hugging at regular intervals. James Cromwell does what he can as the troupe's tough-love leader, but "Cowgirls n' Angels" plays as a soft, sappy alternative to the "edgy" tween films you see on the Disney Channel.