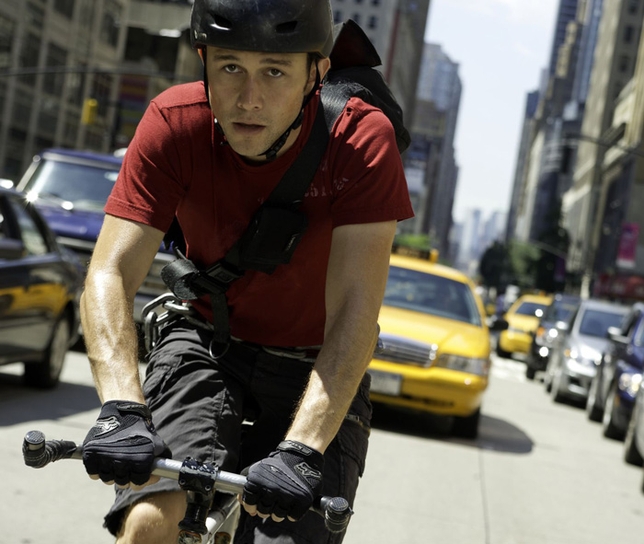 Joseph Gordon-Levitt and Michael Shannon bring such life to "Premium Rush" that it's too bad the rest of the movie is a flat tire. This action-thriller revolves around the world of New York City bike messengers, in particular wild-man rider Wilee (Gordon-Levitt), who picks up a mysterious package that's being hunted down by a crooked police detective (Shannon). "Premium Rush" has a giddy ludicrousness that's fun at first, but despite some high-adrenaline stunt sequences around Manhattan, eventually the B-movie plot machinations start to grind you down. But this forgettable late-summer diversion provides Gordon-Levitt with a chance to show off a sexy, chiseled urgency that's thoroughly appealing. As for Shannon, he hams it up deliciously as a bad cop who might go ballistic at any moment. This may not be a highly nuanced performance, but his bug-eyed intensity makes the 90-minute running time speed by.
Fans of Dax Shepard's sweet, spacy persona will feel right at home with "Hit and Run," a goofball action-comedy that's likable but not particularly memorable. Shepard, who also wrote and co-directed the film, plays a former getaway driver living in witness protection in Northern California after ratting out his friends. But when his new girlfriend (Kristen Bell) needs a lift to a crucial job interview down in Los Angeles, he risks attracting the attention of his old confidant Alex (Bradley Cooper), who wants revenge on the snitch. Tremendous car chases mix with light romantic-comedy banter and some shocking violence, but "Hit and Run" can't quite maintain its offbeat tone, despite Shepard and Bell's adorable rapport. Wearing dreadlocks that make him look like Mickey Rourke's more benevolent younger brother, Cooper seems to be having a ball portraying a dopey B-movie villain. It's too bad he doesn't have funnier lines.
Standup comics often funnel the agony of their real lives into their art, but few have done it as touchingly as Mike Birbiglia with "Sleepwalk With Me," an adaptation of his acclaimed 2008 Off-Broadway solo show and subsequent memoir. Birbiglia plays a mildly fictionalized version of himself as he traces the history of his early standup career, which dovetailed with an extreme sleepwalking disorder and a flailing long-term relationship with his girlfriend Abby (Lauren Ambrose). "Sleepwalk With Me" is hardly the first film to address the struggles of balancing career and love, but Birbiglia's consistently low-key, wry humor keeps his bittersweet laments from feeling like navel-gazing. It also doesn't hurt that he's a winning onscreen presence, complemented by Ambrose's loyal lover, who begins to wonder if she's enough to make him happy.
Billed as a French "The Big Chill," "Little White Lies" brings together several of that nation's most popular actors for predictable but affecting conversations about life, love, and mortality. After their vivacious pal Ludo (Jean Dujardin) slips into a coma in the aftermath of a motorcycle accident, his friends reluctantly go ahead with their annual summer getaway. His absence, however, isn't the only cloud hovering over this normally carefree vacation. Commitment-phobic Marie (Marion Cotillard) regrets how her relationship with Ludo ended, perfectionist Max (François Cluzet) doesn't know how to respond when one of his oldest male friends (Benoît Magimel) admits an attraction to him, and lovesick Antoine (Laurent Lafitte) refuses to get over a girlfriend who dumped him months ago. There's nothing terribly original or compelling about these story lines, but the cast gives the characters a lifelike nonchalance that makes their uncertainties and quiet desperation resonate.
The tender documentary "Somewhere Between" may lack a riveting urgency, but no matter: This gentle look at a collection of Chinese teenage girls adopted by American families may very well make you weepy. Inspired by her decision to adopt a Chinese baby, filmmaker Linda Goldstein Knowlton crisscrossed the United States to speak with four teen Chinese adoptees to get a sense of how they acclimated to a foreign culture. Knowlton's subjects are all battling the same obstacles—teenage angst, a search for identity, confusion, and anger regarding the birth parents they feel abandoned them—and "Somewhere Between" works best when it quietly watches these young women gracefully navigate their insecurities. (A reunion between one teen and her birth parents will rip your heart out.) Without drowning in platitudes, the documentary makes the case that in our increasingly multicultural world, the notion of what constitutes a family will need to be reconsidered.