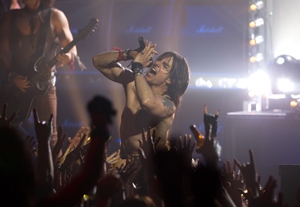 In "Rock of Ages," Tom Cruise plays Stacee Jaxx, the biggest rock god in the world, and likewise the actor easily towers above his costars in this playful, silly, hit-or-miss musical. The year is 1987, and the denizens of Hollywood's Bourbon Room (including aspiring singers Sherrie Christian and Drew Boley, played by Julianne Hough and Diego Boneta) eagerly await the arrival of Jaxx for a sold-out performance that will hopefully keep the club financially afloat. Using popular glam rock of the '80s -- everything from Def Leppard's "Pour Some Sugar on Me" to Twisted Sister's "We're Not Gonna Take It" -- "Rock of Ages" longs to be a kinetic guilty pleasure, and a cast that features Alec Baldwin, Russell Brand, and Paul Giamatti seems to be relishing the hair-metal decade's self-parodying excess. The problem is that the film's generic love story and "A Star Is Born"-style plotting offer little new. Jaxx is just a side character, but Cruise's expert skewering of the singer's warped megalomania makes him the main attraction.

Adam Sandler's juvenile antics can be pretty tough to take in his mainstream, PG-13 comedies, but upping the bad language and inappropriate humor for the R-rated "That's My Boy" doesn't do anything to reinvigorate his anarchic spirit. Playing an uncouth deadbeat dad trying to make amends with his uptight grown son (Andy Samberg), Sandler savors every F-word that flies from his mouth, but his tepid odd-couple pairing with Samberg fails to lead to anything particularly funny. As with too many of Sandler's recent offerings, "That's My Boy" doesn't zoom along so much as it gasps and wheezes from bit to bit, but at least there's some compensation in the form of Milo Ventimiglia as a freakishly psyched Marine and Will Forte as Samberg's ineffectual coworker.

Audiences often admire characters who are heroic, larger-than-life figures, but sometimes it's the people up there on the screen who exhibit the same flaws and desires that we all do who leave the deepest impression. The superb "Your Sister's Sister" is an example of the latter. Directionless Jack (Mark Duplass) decides to take a break from the world to visit the secluded family cabin of his close friend Iris (Emily Blunt). Hoping for some solitude, he instead encounters Iris' sister Hannah (Rosemarie DeWitt), who's looking for a little escape herself. A drunken hookup and Iris' subsequent surprise arrival produce a series of smart, delicately nuanced conversations about friendship, family, and commitment that aptly chronicle modern-day uncertainty in artfully plainspoken language. All three leads give terrifically natural performances, with Blunt and DeWitt particularly good at capturing the complex rhythms of a loving but uneasy sibling relationship.

As witnessed in "Before the Devil Knows You're Dead," Ethan Hawke does some of his best work portraying desperate men on the verge of a nervous breakdown. "The Woman in the Fifth" gives him another chance to dangle at the end of his tether. He plays Tom, a struggling novelist recovering from an unspecified personal crisis who has moved to Paris to reconnect with his estranged wife and daughter. The unsuccessful reconciliation forces him to find other accommodations and draws the interest of an enigmatic beauty (Kristin Scott Thomas), with whom he engages in a series of afternoon trysts. Based on the Douglas Kennedy novel, "The Woman in the Fifth" switches among genres -- including thriller and romantic drama -- but at heart this is an absorbing, melancholy character piece about a man laboring to keep his head above water. Hawke's understated turn teasingly hints at Tom's possible emotional imbalance, while Thomas makes worldly sophistication powerfully alluring.

"Americano" tells a seemingly familiar tale of a grown son (writer-director Mathieu Demy) making peace with his recently deceased mother, but there's a twist. Demy is the son of renowned French filmmakers Agnès Varda and Jacques Demy, and his feature directorial debut's flashback scenes are taken from his mother's film "Documenteur," which starred him as a boy. Unfortunately, the meta component is the strongest element of "Americano." The man's search for his mother's mysterious pen pal leads him from Los Angeles to Tijuana, where he meets a stripper (Salma Hayek) who seems uninterested in discussing her past. Despite its themes of forgiveness and grief, "Americano" ultimately feels a bit superficial. Not even Hayek can break through the film's insular self-reflexivity and increasingly forced drama.

Spanish filmmaker Nacho Vigalondo's 2008 feature debut, "Timecrimes," was a clever Möbius strip of a time-travel thriller. His new effort, "Extraterrestrial," isn't nearly as accomplished, but it suggests a creative mind that likes to bend sci-fi conventions to its own purposes. Julio (Julián Villagrán) wakes up in an unfamiliar bed after a raucous night, only to discover that he hooked up with Julia (Michelle Jenner), a beautiful stranger. But Julia's live-in lover Carlos (Raúl Cimas) is on his way home -- oh, and flying saucers have just entered the earth's atmosphere. Working with a low budget, Vigalondo mixes post-apocalyptic drama with dark romantic comedy, and the decidedly cockeyed results are genuinely unpredictable, albeit tonally messy.

You needn't know a thing about celebrated performance artist Marina Abramović to immerse fully in "Marina Abramović: The Artist Is Present." Directed by Matthew Akers, this lovely documentary chronicles her preparations for a months-long 2010 retrospective at New York's Museum of Modern Art that included a daily performance in which she sat motionless staring at any museum attendee who wished to sit across from her. Those who would dismiss Abramović as pretentious will deprive themselves of one of the year's most unlikely emotional experiences, as Akers' camera documents the effect her silent exchanges have on both her and her devotees. Not just an engrossing portrait of Abramović's career but also a rallying cry for provocative artists everywhere, "The Artist Is Present" is moving and inspiring in equal measure.