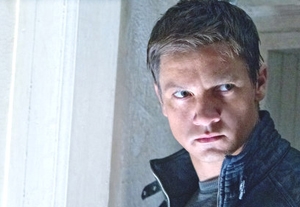 In everything from "The Hurt Locker" to "The Avengers," Jeremy Renner has projected a rugged, taciturn masculinity: He's got soulful eyes and a sculpted physique. In "The Bourne Legacy," a continuation of the series begun by Matt Damon, he plays Aaron Cross, a Bourne-like killing machine whom the government wants eliminated before the public can learn about the U.S.'s secret assassin program. Evading lethal drones and vicious hit men, Aaron teams up with a research scientist (Rachel Weisz) who's also being hunted. Regrettably, Renner doesn't have Damon's charisma, and the new film can't find the breathless momentum that propelled the first three installments along. Nonetheless, "The Bourne Legacy" eventually ramps up to a rousing third act, and even before then there's a persistent anxiety hovering over the proceedings. Hopefully, future sequels will give Renner and Weisz a chance to develop the chemistry that's missing here.

The pairing of Will Ferrell and Zach Galifianakis proves to be a losing ticket in the election comedy "The Campaign." Ferrell plays a cynical congressman who for the first time won't be running unopposed in his district. His challenger, the sweet doofus Marty (Galifianakis), wants to win to improve his beloved small town, but opportunistic Washington power players (led by Dylan McDermott's ruthless campaign manager) have ulterior motives for assisting him. Directed by Jay Roach, who satirized real elections in the HBO films "Game Change" and "Recount," "The Campaign" takes broad swipes at contemporary politics without being particularly funny or insightful in the process. It doesn't help that its stars are off their game. Ferrell does another of his arrogant-buffoon types, while Galifianakis makes his character so intricately bizarre that he never emerges from behind a thick cloud of quirks.

Sex is a subject almost never discussed in Hollywood films, and it's especially rare in movies about middle-aged couples. For that reason alone "Hope Springs" would be noteworthy, but more important it's a smart and serious mainstream comedy about adult relationships. Arnold (Tommy Lee Jones) and Kay (Meryl Streep) are celebrating their 31st wedding anniversary, but Kay is unhappy with how distant he's become. Determined to rekindle their passion, she convinces him to accompany her to visit a counselor (Steve Carell) who specializes in intimacy issues. Though "Hope Springs" can be irritatingly cutesy -- Streep overdoes Kay's matronly adorableness -- the three leads capably anchor the story. Carell in particular is superb as the therapist, radiating the calm confidence that these two lovebirds desperately need.

"2 Days in New York" also features a couple at a crossroads: Liberal writer Mingus (Chris Rock) and his artist girlfriend Marion (director and co-writer Julie Delpy) live together with their kids from previous relationships, but that delicate juggling act becomes threatened by a visit from Marion's stereotypically overbearing French family. A sequel to Delpy's 2007 comedy "2 Days in Paris," "New York" lacks the wise observations about commitment that marked its predecessor. (That film was also far better at mocking cultural biases.) Rock has a tough time adjusting to Delpy's loose, ad-libbed filmmaking style, and Marion's family members (particularly Delpy's real-life father, Albert Delpy) stay unfunny caricatures from the first minute to the last. Still, there is a weird unpredictability to the movie's mesh of comedy, romance, and drama that keeps "2 Days in New York" oddly engaging, even when it's not working.

Director Spike Lee has suffered the occasional misfire ("Miracle at St. Anna," "Summer of Sam"), but his mastery of pace, tone, and visuals is always arresting. His latest, "Red Hook Summer," is terribly uneven, but its thematic ambition is so formidable that you may end up respecting it anyway. The film concerns Flik (Jules Brown), an Atlanta youth reluctantly visiting his devout grandfather Bishop Enoch Rouse (Clarke Peters) in Brooklyn's impoverished Red Hook neighborhood. Discussions about class, faith, and race abound -- plus Flik becomes friendly with a sassy local girl (Toni Lysaith) -- and as always with Lee's films, "Red Hook Summer" is a small marvel of lively interplay and evocative atmosphere. The problem is that the movie meanders to a forced dramatic conclusion, and its young leads sometimes seem unable to bear the film's weight on their small shoulders. But Peters is a revelation as an inspired preacher whose animated sermons are a consistent highlight.

Coming-of-age dramas are a reliable indie staple, but "Goats" illustrates their liability: In the end, young people's rites of passage aren't really that different from one another. Ellis (Graham Phillips) lives in Arizona with his hippie mom (Vera Farmiga, overacting) but travels east for boarding school, where he finds himself drawn to the more refined lifestyle of his father (Ty Burrell). All the elements are in place for a familiar adolescent struggle that plays out in ways that aren't particularly memorable. David Duchovny co-stars as an amiable stoner who could be a cousin of Jeff Bridges' Dude character in "The Big Lebowski," but the rest of "Goats" quickly goes up in smoke.