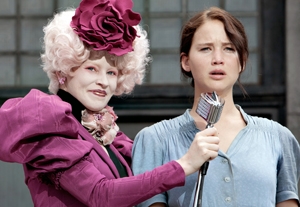 Just a few years ago, Jennifer Lawrence was merely an up-and-coming actor best known for her work on the sitcom "The Bill Engvall Show." That all changed in January 2010, when she became a Sundance breakout star with the award-winning drama "Winter's Bone." Since then, she's landed roles in acclaimed indies ("Like Crazy") and summer tent poles ("X-Men: First Class"), but her biggest role to date is as Katniss Everdeen, the bow-and-arrow-wielding heroine in the much-anticipated
"The Hunger Games."
How does she fare in her transition to franchise star? Quite nicely, thank you very much. The fantasy film concerns a bleak future in which young people fight to the death in an annual televised contest. Part romantic melodrama, part dark action-thriller, this event movie struggles on occasion to find its footing, but Lawrence's no-nonsense toughness carries you along. Like Katniss, she seems to be growing up right in front of our eyes.
The life-and-death stakes may not seem as severe in
"The Deep Blue Sea,"
but director Terence Davies' adaptation of Terence Rattigan's play is awash in romantic anguish that might very well kill its main character, the suicidal Hester (Rachel Weisz), who has left her comfortable but dull marriage for a tempestuous relationship with an alcoholic former fighter pilot (Tom Hiddleston). This midcentury tale swoons with heartache-sometimes at the risk of drowning the film in melodrama-but Weisz brings such an edgy, fragile quality to her performance that her character's torment is palpable from the first moment. If there's a lingering flaw, it's that it's difficult to understand what so drew Hester to her cruel lover: We see a lot of Hiddleston's petulance but not nearly enough of his smoldering charm.
"The Deep Blue Sea" made its debut at last year's Toronto International Film Festival, where one of the buzziest entries was "The Raid," a kinetic Indonesian action movie pitting a group of special-forces troops against an entire building of heavily armed bad guys. Now titled "The Raid: Redemption," the film finally arrives in the U.S., and I can report that both things I've heard about it are true: It's incredibly violent, and it's a lot of fun. Incorporating dazzling martial-arts sequences and inspired bursts of mayhem,
"The Raid: Redemption"
stars Iko Uwais as essentially the Bruce Willis of this particular "Die Hard." You don't go to a movie like this for performances-honestly, when characters emote about their backstories, you'll tune out-but Uwais and the rest of the cast kick, shoot, run, and fly through the air with such precision that I found myself forgiving the total lack of emotional connection to anything that was happening.
By comparison, it's hard not to become invested in the premise of
"4:44 Last Day on Earth,"
which depicts a nightmare scenario: The world will end tomorrow at 4:44 a.m. Eastern time. Unlike other such doomsday films, though, director Abel Ferrara's chamber piece is a meditative, small-scale drama concerning a fractious couple (Willem Dafoe and Shanyn Leigh) spending their final hours together in their New York City loft. Prickly and not incredibly likable, these two don't make for the best judgment-day companions. With that said, the movie's stubborn commitment to its precise bohemian worldview-ably embodied by Dafoe's idiosyncratic, unpredictable portrayal of a man riddled with regrets-becomes oddly gripping, especially as we get closer to 4:44. Still, you may wish Leigh's whiny, self-absorbed painter would just die already.
Stephen Dorff had been largely forgotten until his strong, sympathetic turn in writer-director Sofia Coppola's "Somewhere." His comeback receives more momentum thanks to his urgent performance in
"Brake,"
a gimmicky thriller that preys on your fear of kidnapping and claustrophobia while triggering your annoyance with plot contrivances. Dorff plays a Secret Service agent who wakes up to discover he's locked in a clear glass box fitted with a digital timer. How did he get there? What's going on? And doesn't this all sort of remind you of 2010's "Buried," which starred Ryan Reynolds? Onscreen the entire time, Dorff gives a smart, intense performance, but he's undone by the story's derivativeness, not to mention a ridiculous third-act twist that infuriates me just thinking about it. Nonetheless, "Brake" may make you wonder how Dorff would have done as Jack Bauer.
Speaking of indelible TV characters, Michael C. Hall is one of those rare actors who can claim two on his résumé: David Fisher (from "Six Feet Under") and Dexter Morgan (on the current "Dexter"). He switches gears in
"The Trouble With Bliss"
to play Morris Bliss, a directionless, depressed guy living with his dad. Hall does what he can to make navel-gazing inertia charming, but this low-budget indie is ultimately all quirk and little substance. Best in show is Brie Larson as Bliss' unlikely teen lover, although she's much more fun in "21 Jump Street."