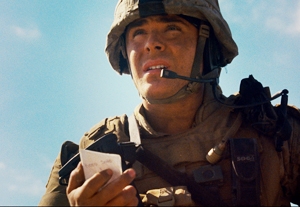 Those who thought Zac Efron was just another adorable, disposable Disney pinup were pleasantly surprised by his assured performance in 2008's little-seen "Me and Orson Welles," which suggested that the guy had a future beyond "High School Musical" reunions. Unfortunately, his work in "
The Lucky One
" won't deter critics who dismiss him as a lightweight. Based on a Nicholas Sparks novel, the romantic drama stars Efron as a Marine back from Iraq in search of the woman whose photograph he found during combat. Taylor Schilling is a gentle, unfussy beauty as the woman in the photo, but the romantic complications that ensue are so leaden that Efron doesn't get enough chance to flex his potent charm. There's nothing wrong with guilty pleasures, but "The Lucky One" doesn't even have the good sense to be trashy, sappy fun. If movies like this mean Efron is "maturing" as an actor, I'd rather he revert to his singing-and-dancing days.
Romantic concerns also consume "
Think Like a Man
," a comedy about a group of Angelenos who are either looking for love or trying to make love last. Based on the popular dating book by Steve Harvey, who advocates that women need to understand the male mind to get what they want, this ensemble film features so much game-playing that it ends up feeling manipulative and cynical rather than witty and playful. What makes "Man" bearable, however, is its sparkling cast, particularly Michael Ealy at his sensitive, smoldering best. And although he may be an acquired taste, motor-mouthed comedian Kevin Hart has a blast playing a guy who complains about his ex-wife so much that you know he really wants her back.
Dog lovers may be tempted to see "
Darling Companion
," which details a married couple's complicated relationship with their pet, but this comedy-drama is more mutt than purebred. Beth (Diane Keaton) adores her rescue dog, Freeway, which only makes her more upset when her distracted husband (Kevin Kline) seems less than invested in finding the dog after it goes missing. Co-written and directed by Lawrence Kasdan ("The Big Chill," "Grand Canyon"), "Darling Companion" aspires to be an exploration of aging, commitment, and second chances, but the film's cutesy, self-satisfied tone dampens a normally dependable cast, which includes Richard Jenkins, Dianne Wiest, Elisabeth Moss, Sam Shepard, and Mark Duplass. You may be tempted to put this dog to sleep just to end its misery.
The bittersweet French drama "
Goodbye First Love
" looks at matters of the heart from the perspective of a young woman (Lola Creton) whose passionate teenage relationship with an older boy (Sebastian Urzendowsky) leaves her emotionally shipwrecked after he abandons her to travel the world. The film follows her over the next several years as she nurses an infatuation with her beau, who stopped corresponding with her a long time ago. Less about love than it is about questioning the myth of soul mates, "Goodbye First Love" is guided beautifully by Creton's brave, nuanced performance as a woman who simply can't let go of something that may never have been there in the first place.
If you want a sobering example of good actors giving their all to a project that doesn't merit such effort, look no further than writer-director Dennis Lee's "
Jesus Henry Christ
." The coming-of-age yarn introduces us to Henry (Jason Spevack), a child prodigy who discovers that his lefty activist mother (Toni Collette) conceived him with an anonymous sperm donor who's a neurotic, ineffectual academic (Michael Sheen). Collette and Sheen invest their limp characters with plenty of feeling, but their skillfulness can't overcome Lee's insistence on magnifying every drop of preciousness in his unbearably quirky tale.
Give "
The Moth Diaries
" credit for trying to be an unsettling art-house answer to the overblown vampire melodrama of the "Twilight" films. This horror-drama takes place at a girls' school, where kindhearted student Rebecca (Sarah Bolger) begins to wonder if her creepy new classmate Ernessa (Lily Cole) might be behind a rash of mysterious killings on campus. "The Moth Diaries" tackles vampirism from the perspective of how one person can metaphorically prey on the soul of another, and Cole makes for an imposing, albeit one-note, predator. Sadly, though, the longer the film teases out its mystery, the sillier and more preposterous the whole thing becomes.
Arguably, the most dynamic person in any of this weekend's films is someone who died three decades ago. "
Marley
" is an engaging, nearly two-and-a-half-hour overview of influential reggae artist Bob Marley. Overseen by the Marley family, the documentary can't help feeling like an extended promotional campaign for the man's legacy, offering very little in the way of criticism or contradictory points of view. Still, "Marley" does a solid job conveying what a charismatic, important musical force he was, helping to restore his luster after years of being reduced to a generic cultural icon who shows up on posters in countless college dorm rooms.