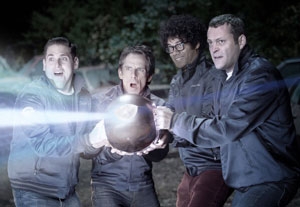 There are some laughs to be had in "The Watch" -- any comedy that stars Ben Stiller, Vince Vaughn, and Jonah Hill would have to try pretty hard not to be funny at all -- but one can't shake the feeling that the star power on display isn't being used to its full potential. The film features the three actors and Richard Ayoade (perhaps best known for the droll British sitcom "The IT Crowd") playing members of a neighborhood watch for a quiet Ohio community where a murder recently occurred. But soon they realize the perpetrator isn't from this planet. "The Watch" would love to be a horror-comedy in the vein of "Ghostbusters" or "Men in Black", but its raunchy, foul-mouthed humor never quite rises to the level of anarchic exuberance. Instead, the movie, aside from Ayoade's delicious restraint, is mostly a bunch of dudes sitting around swearing and waiting for the next alien attack.

The "Step Up" films try to preach the importance of following your dreams and being true to yourself, but this franchise's most enduring message can be summed up rather bluntly: Shut up and dance. The fourth film in the series, "Step Up Revolution," is much like the earlier installments in that it only really comes to life when the actors close their mouths and let their bodies do the talking. "Revolution" shifts the action to Miami, introducing us to a hunky street dancer (Ryan Guzman) and an aspiring ballerina (Kathryn McCormick) who fall in love, even though her rich father (Peter Gallagher) disapproves. The plot is simply an excuse to segue into the next inspired dance sequence, and the 3-D greatly emphasizes the dynamic choreography. Unfortunately, despite their elegant moves, Guzman and McCormick aren't captivating dramatic presences, which is a fancy way of saying that they're beautiful but boring.

Sporting a clever, magical premise worthy of Woody Allen, "Ruby Sparks" tells the story of Calvin (Paul Dano), a blocked, lonely novelist who unexpectedly takes care of both problems by writing a book about his dream girl, who then inexplicably shows up in his apartment. The adoring young lady, named Ruby (Zoe Kazan, who also wrote the screenplay), has no idea she's a figment of Calvin's imagination, but if he created her from his words, can he bend her to his needs through rewrites? Dano perhaps overdoes Calvin's nerdy insecurity at first, but that sets the stage for the film's second half, which grows darker and more intriguing as it examines the ways in which art and love can be about asserting control over real life's messy unpredictability.

Bad people behave reprehensibly in "Killer Joe," a proudly sleazy, amoral slab of Texas noir based on a play by Pulitzer Prize winner Tracy Letts, who did the screen adaptation. Low-life deadbeat Chris (Emile Hirsch) hires crooked cop Joe Cooper (Matthew McConaughey) to bump off his mother so he can collect the inheritance, but Joe throws a wrench into the plan when he becomes creepily obsessed with Chris' underage sister (a wonderfully trashy Juno Temple). Director William Friedkin has encouraged his cast to play up their characters' white-trash sliminess, and the actors respond with terrifically lurid performances, flirting with camp excess but anchored by a gritty, nasty desperation that brings real juice to this pulpy, darkly comic thriller. "Killer Joe" also features Thomas Haden Church and Gina Gershon, but McConaughey is the highlight, making Joe a calm, frightening presence who chills the blood in not one but two disturbingly bravura sequences.

The weekend's other gleefully inappropriate film is "Klown," a Danish comedy that feels like an overseas response to Hollywood's wave of R-rated bromances. (It shouldn't be a surprise, then, that Warner Bros. is working on an American remake.) Based on a sitcom of the same name, "Klown" concerns two friends -- hopeless dweeb Frank (Frank Hvam) and horny Casper (Casper Christensen) -- who go away for a vacation in the great outdoors that the married Casper hopes will lead to a visit to a highly exclusive brothel. Their trip gets seriously derailed, however, when Frank brings along his adolescent nephew Bo (Marcuz Jess Petersen) to prove to his pregnant girlfriend that he'd be a good father. The sexual high jinks and awkward non sequiturs are consistently amusing, if only rarely shocking, and Hvam is particularly delightful as the stereotypical geek whose deadpan foolishness tickles from beginning to end.

Music fans who tire of the disposability of pop musicians like Katy Perry will find much to love in "Searching for Sugar Man," an engaging documentary about Rodriguez, a gifted singer-songwriter who put out two albums in the early 1970s that sank like a stone. The film tells what happened to the reclusive artist afterward, including investigating whether or not he committed suicide onstage, as was long rumored. A loving elegy for all the talents who never got their due, "Sugar Man" boasts a twisty narrative that's more fun the less you know about Rodriguez's biography. Even if you're familiar with the actual events, the chance to hear his mournful, sun-splashed songs through theater speakers should be reason enough to leave the house to see this film.

A very different artist is the subject of "Ai Weiwei: Never Sorry," a documentary about the celebrated Chinese sculptor, filmmaker, and political activist that works as both an examination of the man's methods and a critique of his homeland's oppression of free speech. Director Alison Klayman follows Ai as he speaks out against the Chinese government and prepares his latest art installation, and while the film may be a little light on insight into either topic, it's an agreeable introduction to an artist whose placid exterior conceals a provocative, challenging mind.