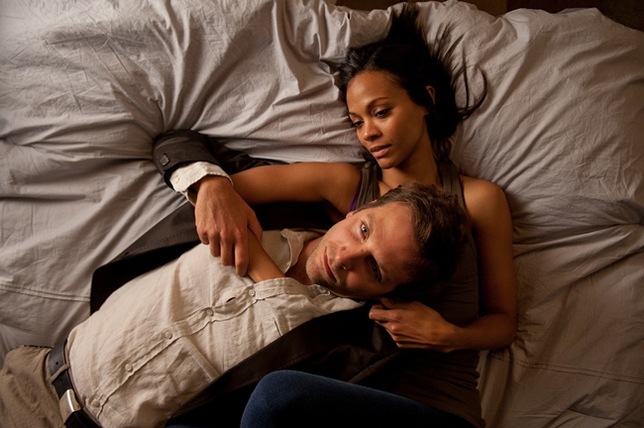 Bradley Cooper made his name in R-rated comedies such as "The Hangover," but he proved just as comfortable starring in last year's thriller "Limitless." Like that film, "The Words" is a disposable but enjoyable yarn. Cooper plays a struggling novelist who unearths a brilliant unpublished manuscript that he claims as his own, much to the annoyance of the work's true author, an older man (Jeremy Irons) who confronts Cooper with the story of how the work came into being. The story-within-a-story structure gets cumbersome—this romantic drama is framed by another author (Dennis Quaid) reading from his bestseller, which depicts all the other storylines we see in the movie—but Cooper's sympathetic performance as an ethically slippery artist provides enough of an emotional anchor to ground this overly clever page-turner.
Rampant cleverness is even more of a problem with "Bachelorette," which is far too pleased with its tart talk and snide characters. Written and directed by Leslye Headland, who adapted her Off-Broadway play, this snarky comedy focuses on several BFF bridesmaids (Kirsten Dunst, Isla Fisher, Lizzy Caplan) who have to team up the night before the wedding to repair the bride's ripped dress. The tone is largely glib, but because Headland's characters are more smart-ass than smart (or interesting), the film's attempts to offer wised-up insights on friendship and love fall flat. Who cares what such shallow people think about anything?
If watching "Bachelorette" is akin to eating too much stale candy, the moving romantic drama "Keep the Lights On" feels like a four-course meal: hearty, satisfying, and substantial. Directed and co-written by Ira Sachs, the semiautobiographical film follows the decade-long relationship between sweet, soft-spoken documentary filmmaker Erik (Thure Lindhardt) and mercurial lawyer Paul (Zachary Booth). Much like "(500) Days of Summer" and "Like Crazy," "Keep the Lights On" explores the poignancy of a love affair that constantly seems doomed, specifically because of Paul's growing drug problem. Booth captivates as a good man whose demons keep him at a distance, but the film belongs to Lindhardt, playing a heartbreaking romantic who convinces himself that this relationship will work out, even if the audience isn't as sure.
Paul Dano has portrayed everyone from persnickety writers ("Ruby Sparks") to fire-and-brimstone preachers ("There Will Be Blood"), but still it's a bit unexpected to see him as a rock musician in "For Ellen," a subdued drama in which Dano's down-on-his-luck character decides to meet the young daughter (Shaylena Mandigo) he's never known. An actor skilled at rendering the restless anxiety of his man-child characters, Dano looks the part—tattoos, painted fingernails—even if he almost seems too boyish and passive to be a guy who has devoted his misspent youth to rock 'n' roll. Nonetheless, "For Ellen" gracefully builds to a beautifully nuanced encounter between father and daughter that suggests that newcomer Mandigo might be a name worth remembering.
Several of this weekend's films feature characters stumbling through life, but none of them is more lost than Amy (Melanie Lynskey), a recent divorcée forced to move back in with her parents in "Hello I Must Be Going." The comedy-drama follows Amy as she starts a foolish tryst with a 19-year-old student (Christopher Abbott), the first person to show her any kindness since she was dumped by her husband. Lynskey has given herself quite a challenge—playing a self-pitying woman stuck in the doldrums—and it's to her credit that she makes us care about such a doormat. Unfortunately, the warm chemistry she shares with Abbott can only do so much to propel this meager story of yet another 30-something grappling with self-discovery.