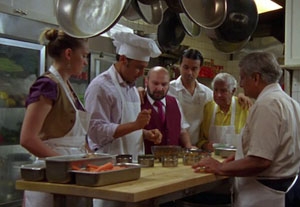 Sweet, if not entirely special, "Today's Special" is an easy-to-take and entertaining tale about an up-and-coming New York chef, Samir (Aasif Mandvi). His dreams of going to Paris to become tops in his field are shattered after his father (Harish Patel) has a heart attack and Samir must step in to run the rather unexciting family Indian restaurant in Queens.
As the son of immigrant parents, Samir has his hands full—and not necessarily just with Indian dishes he has no clue how to prepare. His father constantly verbally assaults and demeans him as Samir's own self-esteem comes into question. Fortunately, he is aided in this new unwanted venture by a cab driver, Akbar (Naseeruddin Shah), who shows up with tall tales about his Indian cooking prowess, even claiming to have made dishes for the late Indian Prime Minister Indira Gandhi.
His personality is so infectious that it doesn't matter where the truth lies; Samir needs help and Akbar can provide it. Along the way there is also possible romance when Samir hooks up again by accident with sweet and beguiling Carrie (Jess Wexler). This unexpected turn of events that started out badly could well wind up being a very good thing for Samir; and even if the slight story (also written by its star, Mandvi, with Jonathan Bines) that has been directed with plenty of pluck by David Kaplan isn't exactly memorable, it offers food for thought and amusement.
Not on the level of classic restaurant comedies such as "The Big Night" that literally made mouths water, this little concoction offers colorful settings and nice characters you don't mind spending a little time with.
Fortunately it has Mandvi as its star. He's a charmer and perfectly captures the quandary of this son who can't seem to also rise. Mandvi is utterly convincing and has written himself a winning role as we root for him to succeed against all odds and the Old World ways of his parents—who also include the wonderful Madhur Jaffrey as his mother. A deceased brother also plays into the storyline as dad constantly puts Samir down in comparison.
The material is oddly Neil Simon-ish in an Indian setting, but Mandvi makes it work with a solid screen presence and perfect attitude. He never overplays—which is fortunate because he balances the sometimes over-the-top supporting actors around him, including Patel's stereotyped father. Shah, on the other hand, is a complete delight in all his scenes, and Wexler adds just the right touch of warmth to the proceedings.
The food on display should be a star as well but it never had this reviewer running for the concession counter or heading to the latest nearby Indian restaurant to check out the dishes. This is more a human comedy centered on a likable guy trying to break out of the constraints of his upbringing while being pulled back in and doing his best to stay above surface.
Genre: Comedy
Directed by: David Kaplan
Screenplay by: Aasif Mandvi and Jonathan Bines
Starring: Aasif Mandvi, Naseeruddin Shah, Jess Wexler, Kevin Corrigan, Harish Patel, Madhur Jaffrey.