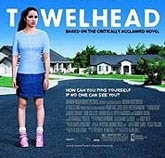 Despite its charged title, Towelhead is more of a sexual coming-of-age film than a hard-hitting look at racism. Set during the first war in Iraq under President H.W. Bush, the film does touch on the kind of racism a half-Lebanese girl might experience in suburban Houston. But first-time feature director Alan Ball presents the audience with a shockingly explicit, uncompromising, and often-funny journey for 13-year-old Jasira, a girl who explores her budding sexuality through Playboy centerfolds, masturbation, a randy schoolboy, and a pedophilic neighbor.
With Ball helming the daring film, based on the critically acclaimed novel by Alicia Erian, the tone is all but obvious. His work as creator of the HBO series Six Feet Under and his Oscar-winning screenplay for American Beauty gave audiences a clear vision of what to expect with Towelhead: incredible performances from fearless actors to bring darkly flawed characters and a funny, provocative suburban story to life. In other hands, Towelhead could easily have been a pity-party movie of the week, but with Ball and this amazing cast, we get a gutsy tale of liberation. Jasira isn't ruined by the sexual assault from her handsome neighbor or the physical abuse from her father; she learns from it and becomes stronger.
As Mr. Vuoso, the neighbor, Aaron Eckhart (The Dark Knight, Thank You for Smoking) finally has a meaty role that matches his abilities. To say that taking on the part of a family man and Army reservist who harbors an inappropriate desire for Jasira was risky is a major understatement. Eckhart's predator is unhappy and crosses the line, but he's no sociopath and takes responsibility for his actions. Expect to see some award nominations for Eckhart's unflinching, controversial performance.
The rest of the cast is just as fantastic, including Jasira's hot-tempered, strict father (Six Feet Under alum Peter Macdissi), who fears her blooming sexuality; her narcissistic, immature mother (Maria Bello), who regards Jasira as competition; and her bossy and empowering neighbor (Toni Collette). As Jasira, newcomer Summer Bishil is startlingly authentic. (Audiences can rest easier knowing that Bishil was 18 at the time of filming.)
Comic relief arrives just in time during scenes between Bishil and a panicked Macdissi, such as one where, while picking out sanitary napkins for his daughter (tampons are only for married women), he asks, "Would you describe your situation as light, medium, or heavy?" It's in moments like these where the horrifying becomes hilarious; as Ball has shown with his previous work, that's what real life can be like.
Genre: Drama
Written and directed by: Alan Ball
Starring: Summer Bishil, Aaron Eckhart, Toni Collette, Maria Bello, Peter Macdissi