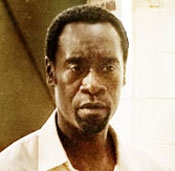 It's too bad movies aren't recommended for performances alone, because Guy Pearce and Don Cheadle are excellent playing opposite each other as an FBI agent and a suspect in the international thriller Traitor. Unfortunately, they are all that's excellent about this often confusing story, another Traffic aspirant that gets lost trying to juggle espionage thrills with current events and character investigation. Written and directed by The Day After Tomorrow writer Jeffrey Nachmanoff, this sprawling, ambitious film has a wide range of points to make but mostly succeeds in translating bad dialogue into many languages.
Cheadle is an excellent choice for a suspense thriller. The man exudes tension with his wiry frame, frowning mouth, and eyes so nervously probing we might be surprised to learn they close when he sleeps. Yet Cheadle is also adept at rendering conflict, in this case balancing devout religious beliefs with a desire to take action. In Traitor, his Samir has reason to be on edge, having witnessed as a young boy the car bombing of someone close to him. When Samir ends up in a Yemeni prison after being caught up in a terrorist bust he forges a bond with Omar (Sa誰d Taghmaoui), ringleader of a terrorist cell. Taghmaoui is another young actor seen in a lot of films lately, though almost always cast as a jihad-crazed fanatic Muslim. He's good at it, but in the past three years he's been in at least four such roles, three of them prominent (he's the terrorist ringleader in Vantage Point). His presence is indicative of this movie's trade in typical thinking.
Pearce, on the other hand, is uncharacteristic as a careful and introspective Southern boy who joined the FBI because there weren't many other career paths catering to his interest in Arabic studies. He doesn't seem to be in law enforcement to kick butt and take names but rather to stop crime and understand how to prevent it. Another fascinating study in contradictions, he's left dangling by a story more interested in thriller tropes. Cheadle's character is likewise brushed aside so the movie can get on with suspense material depressingly familiar in such fare. This is the kind of movie in which Samir, knowing the Feds are after him, surprises a friend in the park only to tell her not to look at him because they're probably being watched. Cue guys in an unmarked police car peeping through binoculars, prompting a heated foot chase to the not-so-suspenseful squeals of a violin-laden score.
Equaling grating is Neal McDonough as Pearce's partner, far too quick on the draw with his witty retorts, although it's not the usually interesting McDonough's fault that he's been armed with the painful comic relief. The only miscast is Jeff Daniels, likable when he's in the right picture but not believable for a second as a top-level spook in this one. By the time we get to him, though, and the one surprise moment that follows, Traitor has already disappeared into the indistinguishable crowd of like-minded films trying to capitalize on current events.
Genre: Drama
Written and directed by: Jeffrey Nachmanoff
Starring: Don Cheadle, Guy Pearce, Jeff Daniels, Sa誰d Taghmaoui, Neal McDonough