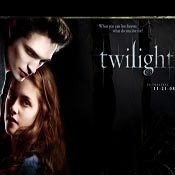 It's Twilight time, and movie theatres should brace for an avalanche of teen and tween girls coming back several times for more helpings of this Thanksgiving holiday gift, a vampire romance aimed directly at them. Based on Stephenie Meyer's incredibly successful book -- which spent several dozen weeks on the New York Times bestseller list, spawned many sequels, and sparked a literary rush not seen since Harry Potter -- the movie version works surprisingly well, and not just for young girls. Adults, even guys will find much to like here in a drama where the hook is bloodsucking teens but the heart is the forbidden-love angle that has made teen romances work since Romeo met Juliet and Baby met Johnny Castle.
The plot has Bella (Kristen Stewart) relocating to the gray, cloudy town of Forks, Wash., where she immediately notices something different about her attractive new classmates the Cullens, in particular becoming infatuated with hunky Edward (Robert Pattinson). What she doesn't know is that they are bloodsuckers whose vampiric background makes them literally pale next to the other students. Her increasing attraction to the mysterious, even dangerous Edward is tempered by his attempts to fend her off before she learns his true identity. Unfortunately for him, Bella represents the girl he's been hoping to find for about a century, and his primal lust for her is like a magnet. Soon they are thrust into an inevitable pairing which literally takes off when he invites her to join him in flight in the woods. A rival group of nomadic vampires threatens the budding romance and puts Bella's life in danger.
Moodily and effectively directed by Catherine Hardwicke, who has been down the angst-driven teen road before with Thirteen and Lords of Dogtown, this well-written romantic drama succeeds beyond our wildest dreams with a fresh-faced young cast that puts their spell on moviegoers. Pattinson (Harry Potter and the Goblet of Fire) is a real find, his James Dean–like demeanor and edge exemplified in lines like "What if I'm not the good guy; what if I'm the bad guy?" It's perfectly matched to Stewart's unbridled desire. She even manages to make lines like "Your mood swings are giving me whiplash" resonate like they were spoken by Meryl Streep. It's easy to believe why both are jonesing for each other, and we buy completely into their mutual attraction, bloodsucking and all.
The large supporting cast is well-chosen and pleasant to look at, particularly the Cullen clan, portrayed by Ashley Greene, Kellan Lutz, Jackson Rathbone, and Nikki Reed. Taylor Lautner and Anna Kendrick have nice moments as other kids in the school. Also standing out is Rachelle Lefevre as bad-girl vamp(ire) Victoria, who is part of the group of not-so-nice suckers that target Bella. This group also includes Cam Gigandet and Edi Gathegi. Usually the parents in these teen-driven sagas get lost in the crowd, but Peter Facinelli and Elizabeth Reaser make impressions as the older Cullens, and Billy Burke is effective as Bella's dad.
Twilightmay not be Oscar material, but it's hard to imagine a better time at the movies this fall even if you're not in junior high.
Genre: Drama
Written by: Melissa Rosenberg
Directed by: Catherine Hardwicke
Starring: Robert Pattinson, Kristen Stewart, Peter Facinelli, Elizabeth Reaser, Billy Burke, Taylor Lautner