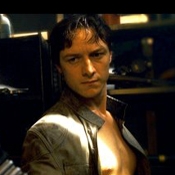 Wanted is yet another film based on a graphic novel, full of chases and explosions, an action film to the hilt. So what makes this one different from the last eight summer-blockbuster wannabes you've seen? Two words: Timur Bekmambetov. He's the Russian director of two sci-fi smashes: Night Watch and Day Watch. Hollywood came calling, and the result is strikingly different from what you might expect: This is one of the most visually arresting genre pictures in many a summer moon. Loud, big, and endlessly assaultive, it's a sneak attack on the senses guaranteed to keep your heart pumping.
Many times when a foreign director gets to helm a "Hollywood" product, something is lost in the translation. But not here, largely due to the visual nature of Bekmambetov's in-your-face style and the blueprint offered by the six-part graphic novel on which Wanted is based. In fact, in a nod to the source material, the director even finds a way to do a subtle salute by having some computer keys fly at the screen to spell out "F -- k You," the title of Chapter 2.
The other big plus: Bekmambetov has gone against the grain in casting the unassuming star of Atonement and The Last King of Scotland, James McAvoy, in the lead role. Because he is basically the antidote to the normal kind of thesp cast in this type of testosterone-driven enterprise, we are with him all the way. He reps a sort of Everyman, a meek office worker suddenly thrown into circumstances he could never have imagined. McAvoy plays a 25-year-old slacker named Wes who has a poor self-image, a boring job with a boss who berates him constantly, and a slut of a girlfriend who makes no secret of sleeping with his best buddy, knowing Wes does not have the cajones to do anything about it. Into his life comes the mysterious hired assassin Fox (Angelina Jolie, who else?) who takes him on the car ride of his life, shakes him out of his humdrum existence, and leads him to the Fraternity, a legendary group of assassins whose motto is "Kill one, save a thousand" led by the stalwart yet cagey Sloan (Morgan Freeman). Wes, whose long-lost father was a member recently killed, becomes the group's new golden boy after a training ritual that would do in just about anyone.
Aside from the pitch-perfect performance of the buffed-up McAvoy, Jolie is, of course, the female action star of the moment, and with her remarkably tattooed body and cool demeanor, she makes an ideal co-star. Freeman brings his usual authority, just not the moral kind this time. There is also good support from a reliable group of pros, including Terence Stamp and Thomas Kretschmann, and with a nice turn by rapper Common.
Extreme, violent, and bursting at the seams, this is hard-core entertainment given new life by its talented director and rock-solid cast. A sequel is not just 'wanted' but required.
Genre: Action
Written by: Michael Brandt, Derek Haas, and Chris Morgan
Directed by: Timur Bekmambetov
Starring: James McAvoy, Angelina Jolie, Morgan Freeman, Terence Stamp, Thomas Kretschmann, Common