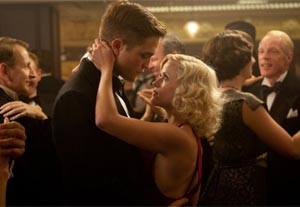 The old adage says actors who want to be noticed should never work with kids or animals. It's proven again in the uneven but stunningly beautiful "Water for Elephants," in which a giant pachyderm named Rosie steals the show from Reese Witherspoon, Robert Pattinson, and even the great Christoph Waltz. Playing Rosie is Tai, a veteran showbiz animal star and the most engaging performer in an oddly unbalanced film that tries to be equal parts romance, Depression-era drama, and circus spectacular. Based on the bestseller by Sara Gruen, the movie is still decent entertainment and definitely has its charms, in the old-fashioned sense of what studios formerly turned out, even if overall it's not the greatest show on earth.
Set amid the big top in 1931, this is a love story not only between man and animal, but also man and someone else's wife. It all starts when veterinarian wannabe Jacob (Pattinson), running from tragic family circumstances, stows away on a circus train and soon meets August (Waltz), the owner and animal trainer of the traveling spectacle, who hires Jacob to take care of the creatures. One in particular, a lovable elephant named Rosie, was recently brought in so that August's wife, Marlena (Witherspoon), could add another element to her acrobatic star turns under the tent. Marital trouble looms as Jacob and Marlena find kinship in their mutual dislike of the cruel August's beating and horrible treatment of the animals, as well as their own fondness for Rosie and for Marlena's beautiful white horse. August senses something going on and continues to make trouble as the attraction builds between the swooning pair.
Rodrigo Prieto's cinematography, Jack Fisk's production design, Jackie West's costumes, and James Newton Howard's appropriate score add to the stunning look and feel of the movie, which evokes major-studio craft at its best. Unfortunately, in an old-style romance you need chemistry between the leads. The talented Witherspoon and Pattinson, despite looking gorgeous together, don't click on screen as well as we had hoped. Pattinson is more of an interesting face than actor and doesn't possess the fire the role requires, damaging Witherspoon's valiant attempts to make us believe. There's far more life in the man he's supposedly competing with, as Waltz, of "Inglourious Basterds," breathes fire and ferocity into the complex August. Despite his wicked demeanor, it is clear this circus would fall apart without this stern taskmaster. Waltz runs with the role, making August understandable if abhorrent in a fully three-dimensional performance.
Jim Norton also scores points for his welcome portrayal of a circus veteran who shows newcomer Jacob the ways of this particular world. In Gruen's book, another character, the contemporary 93-year-old version of Jacob, plays a bigger role in telling the story, but here screenwriter Richard LaGravenese chooses only to frame the tale with his reminiscences, à la Gloria Stuart's character in "Titanic." Hal Holbrook brings great dignity and purpose to the older Jacob despite limited screen time. Still, it's that elephant we're not going to forget.
Genre: Drama
Screenplay by Richard LaGravenese
Directed by Francis Lawrence
Starring Reese Witherspoon, Robert Pattinson, Christoph Waltz, Jim Norton, Hal Holbrook