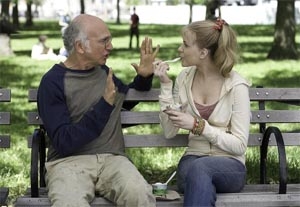 At first glance it feels like a special edition of
Curb Your Enthusiasm
, but soon into Woody Allen's latest film, you realize that its star, Larry David, is channeling his writer-director, calling to mind the young Allen of
Manhattan
and
Annie Hall. Whatever Works
will not likely be considered a classic of Allen's repertoire; still, it's refreshing to see Allen back to full-blown comedy. There are plenty of great zingers in this script, and the cast is strong.
David plays eccentric crank Boris Yellnikoff, a self-proclaimed genius who abandons his stable, upper-class existence for that of a single bohemian. Periodically breaking down the fourth cinematic wall—that imaginary barrier in which the characters don't recognize the audience watching them—Boris tells us his unlikely tale of how he found purpose and love, lost both, and rediscovered them.
Boris' simplified life is turned upside down when a young runaway shows up outside his apartment, begging for food and shelter. Reluctantly, he agrees to take the waif in temporarily, but that arrangement is soon extended indefinitely. Evan Rachel Wood plays the bright-eyed bumpkin, Melody from Mississippi, a former beauty-pageant contestant who flees her conservative, sheltered existence for a taste of freedom. Wood gets to show off her comedic chops for a change and delivers one of the best lines of the film, not spoiled for you here. Patricia Clarkson is hilarious as Melody's Bible-belt momma, who swiftly comes unwound upon her arrival in New York City. Ed Begley Jr. is terrific as Melody's equally repressed father, who also finds Manhattan a perfect tonic for expressing his true self. Relative newcomer Henry Cavill is a breath of fresh air as Melody's dashing suitor.
As for David, he is in nearly every scene and is a master at spewing out ironic insults like, "That's an awfully aggressive outfit. Are you looking to end up in an abortion clinic?" Though David delivers the lines on cue as intended, he's not a brilliant actor. Still, he's a good substitute for a world-weary Allen. However, I really wish Allen had cast himself in this part, as he would have completely fit the bill.
Interestingly, while it has been a few years since Allen shot a production in his home city, you never get the sense that you're in Manhattan. The movie, which feels more like a stage play than a film, is missing that geographic flavor Allen is known for.
Genre: Comedy
Written and directed by: Woody Allen
Starring: Larry David, Evan Rachel Wood, Patricia Clarkson, Ed Begley Jr., Conleth Hill, and Henry Cavill