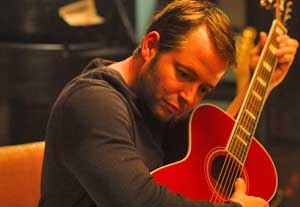 Like the tears of a clown, the songs of a children's folk singer can mask an adult with a raft of personal problems. In writer-director Josh Goldin's helming debut, one such miserable guy mistrusts everyone but sings of optimism and promising futures to the kidlets. Said guy is Ben Singer (Matthew Broderick), the divorced father of one, who works as a proofreader—presumably meant to represent a useless life of dullness—and who shares his shabby apartment with a Senegalese immigrant, Ibou (Michael Kenneth Williams).
"Wonderful World" is yet another recent film with a great Act 1 followed by struggling second and third acts. Quickly, with little fuss and a bit of charm, Goldin sets up our introduction to sad-sack Ben. So when Ibou tells Ben to look at the world as his friend and Ben promises to do so as soon as he sees fish fall from the sky, we're primed for a scene awash in the little finned creatures. And then we forget that promise while Ben ham-fists his way through his life.
Now and for the approximately 30 years he has been acting, Broderick is the best in the business at those little glances that convey his characters' recognition of the simultaneous humor and pathos in their situations. Broderick always charms when playing characters who sit back and take the world's punches squarely on the nose. And once again, he's given the role of a passive watcher who just can't shape his own life. In Ben, unfortunately, that trait is a little annoying.
When Ibou falls ill, his impoverished sister Khadi (Sanaa Lathan) manages to afford a last-minute flight from Senegal. Goldin tries but does not succeed in convincing us Khadi and Ben share chemistry. It's not quite clear what Ben's wise-beyond-her-years daughter, Sandra (Jodelle Ferland), thinks of the romance, although one of the film's most charming scenes shows Sandra and Khadi performing a Senegalese dance. Meanwhile, at the office, we meet Cyril—that clubby guy whom everyone likes. As another of the film's better elements, Jesse Tyler Ferguson is wonderful as Cyril, giving him so many realistic facets that we believe that portion of Ben's journey.
Meantime, according to the film's credits, Ben's songs are performed by songwriter Dan Zanes. Why? Broderick, the star of Broadway's "The Producers" and "How to Succeed in Business Without Really Trying," couldn't be trusted with a filmed song?
Yes, as Ben awakens to his epiphany, he stands in a rainfall of fish. It's not the best-crafted path to get there, but at least at that point it's tempting to think to yourself, "What a wonderful world."
Genre: Comedy/Drama
Written and directed by: Josh Goldin
Starring: Matthew Broderick, Sanaa Lathan, Michael Kenneth Williams, Jesse Tyler Ferguson, Jodelle Ferland