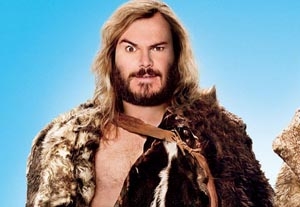 Perhaps director Harold Ramis was trying to create a new Abbott and Costello or even a Laurel and Hardy with his teaming of Jack Black and Michael Cera in the prehistorically limp comedy
Year One
. Instead we get Black up to his old tricks and Cera acting like he's in a completely different movie—a good one as opposed to this slog. Cera is the one saving grace here. Though the most contemporary of actors, his deadpan delivery really works wonders for the script by committee. He has excellent timing, but it's a skill he doesn't use wisely by agreeing to be in material so beneath his talents. Which begs the question: Does Hollywood really know how to use this gifted comedic actor? Still, getting Cera out of the endless stream of teen comedies is a blessing and shows that if he hasn't got a whole lot range, at least he has a sense of humor.
On the other hand, Black, in full fart mode, is exactly what you would expect as Zed, an awkward and accident-prone caveman who gets banished from the village, teams with the reluctant Oh (Cera), and crosses paths with many biblical characters, including a riotous Cain and Abel played, respectively, by David Cross and an unbilled but very funny Paul Rudd (is there a comedy he isn't in?).
This is subpar juvenile high jinks to be sure, and it's hard to imagine just who is the target audience. But at least the film has the benefit of Ramis as co-writer and director; he's a man who knows how to build a comedic rhythm. It's sad so many opportunities for smart humor are thrown away in favor of bathroom jokes and cheap setups with little or no payoff.
Besides the two leads, Oliver Platt has a very funny bit as an enormously hairy high priest who makes the most of a very oily rubdown. Our favorite
Superbad
guy, Christopher Mintz-Plasse (McLovin himself), is also along for the ride here, but his brief screen time as Isaac is a far cry from his glory days with Jonah Hill and Cera. As Sargon, Vinnie Jones gets good mileage. And that cinematic thief of thieves Hank Azaria pretty much wraps up the proceedings stealing his scenes as a rather heartless Abraham. Female roles are handled ably by Olivia Wilde and particularly Juno Temple who appropriately deflowers Cera in her own unique ways. As the second prehistoric comedy in three weeks (
Land of the Lost
, anyone?),
Year One
has set a lofty goal for itself but has little chance of making even a small dent at the box office—even if it were good. It isn't. Where's Mel Brooks when you need him?
Genre: Comedy
Written by: Harold Ramis, Gene Stupnitsky, Lee Eisenberg
Directed by: Harold Ramis
Starring: Jack Black, Michael Cera, Oliver Platt, David Cross, Paul Rudd, Christopher Mintz-Plasse, Vinnie Jones, Hank Azaria, Juno Temple, Olivia Wilde, Horatio Sanz