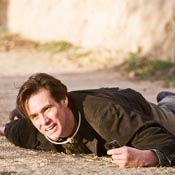 Jim Carrey is at it again. In his first full-blown studio comedy since Fun With Dick and Jane three years ago (unless you happen to count The Number 23 -- and we know some do), Carrey is treading on funny but familiar ground in Yes Man, the story of the negative, naysayin' Carl, who takes a self-help seminar and finds himself saddled with a curse that will cause bad luck unless he adopts an extreme positive attitude and says yes to absolutely everything for the next year. This leads him to such ridiculous --- but, yes, funny --- flights of fancy as ordering up a Persian bride off the Internet and engaging in hard-core sex with the septuagenarian next door. Dumb? Yes. A ripoff of his 1997 comedy, Liar Liar? Yes. Actually, in that film he was a lawyer who had to tell the truth for a day so, nitpickers, you are right, it's not exactly the same premise. Or is it? Yes.
Despite the story's one-joke familiarity, it all works to good effect in letting this enormously talented comic actor regain some footing after a bad drought that brought success only in the form of the animated Seuss romp Horton Hears a Who!.
Carrey has had a number of announced projects fall by the wayside and clearly needs a big holiday comedy to regain his stride. Yes Man is a modest use of his prodigious but erratic talents. He could sleepwalk through this kind of thing, but he gives it his all.
Some of it is laugh-out-loud funny, particularly scenes with the Persian bride, played in perfect deadpan fashion by Sasha Alexander. And his scenes with the oversexed elderly neighbor (Fionnula Flanagan) are over-the-top but amusing.
Although this is all Carrey's show, other supporting players shine, including the ever-reliable Terence Stamp, who puts the plot in motion as the self-help guru who puts a curse on Carl. Stamp is hilarious, throwing himself into the proceedings with abandon.
Also standing out is Rhys Darby as Carl's loony boss, and Bradley Cooper and Danny Masterson as a friend and a friend of the friend, respectively. Zooey Deschanel is okay as Carrey's girlfriend but isn't up to his game, although a scene set in an empty Hollywood Bowl has a nice melancholy sweetness to it that offers a bit of grounded reality to the shenanigans.
Director Peyton Reed certainly knows his way around broad comedy (Bring It On, Down With Love), but the good news is he doesn't let Carrey go too far overboard in digging for laughs. With one dark, depressing drama after another this holiday season, with the economy in the tank and the world in a depressed state, could Yes Man be the tonic for a couple of hours of forget-your-woes fun? Sure, why not -- er, yes!
Genre: Comedy
Written by: Nicholas Stoller, Jarrad Paul, Andrew Mogel
Directed by: Peyton Reed