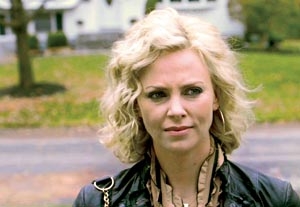 Jason Reitman and Diablo Cody, the director and the Oscar-winning writer of the wonderfully human character study "Juno," are back together with easily one of the year's most unexpected comedies—particularly for one from a major studio at Christmas. Giving Charlize Theron her best moments on film since "Monster," this darkly comic study of an immature, self-absorbed divorcée in her late 30s who returns to her small Minnesota hometown trying to rekindle her high school romance with a now happily married father is a gem and a real departure for both Reitman and Cody. "Young Adult" walks a dangerous line, daring the audience to stick with it even as its central character doesn't invite a whole lot of empathy. That's where Theron's all-out, risk-taking performance gains its power and, ultimately, poignancy.
Mavis (Theron) is a mildly successful author of young adult books—a ghost writer, really—who finds herself back in her hometown, a place to which the big-city woman no longer can really relate. Out of an unhappy marriage and frustrated with the way her life has progressed, the once-popular high school girl foolishly tries to re-create her glory moments and pursues the high school jock, Buddy (Patrick Wilson), she dated back then. Never mind that he has a lovely wife (Elizabeth Reaser) and a baby. Mavis, drowning in narcissism, seizes the opportunity to try to lure him back. Although he never gives her an ounce of encouragement, it doesn't stop her delusional efforts. Along the way she meets Matt (Patton Oswalt), a depressed overweight nobody who reminds her he once had a locker next to hers. His was the polar opposite of high school experiences; he was the victim of a hate crime by kids who thought he was gay (he wasn't) that left him physically and emotionally impaired. That this odd couple find a connection and common ground of self-loathing is the heart and soulless center of Cody's pungent script. Their ultimate sexual encounter, as inconceivable as it sounds, is a brilliant scene of two lost people whose lives peaked in high school, albeit in different ways.
We mostly wince as Mavis makes a fruitless and embarrassing return to a town without much pity for her antics and blind ambition. Theron runs with the part, and she's superb, throwing herself without any sense of movie star vanity into such an unlikable and repulsive character, a different kind of "monster," but one she endows with complete credibility. That we have some level of understanding and even sympathy at the end is the result of fine writing, directing, and acting. Comedian Oswalt, the lead rat in "Ratatouille" and particularly sharp in the little-seen indie "Big Fan," more than lives up to his potential as the likable loser who finds in his opposite a strangely kindred soul in need of the same human connection he wants. Wilson doesn't have much to do as the object of Mavis' misplaced affections, but he's perfect casting. Reaser is also wonderfully understated and sweet, even in her ultimate, unwanted showdown with Mavis.
"Young Adult" is the kind of pitch-perfect black comedy studios seem to have abandoned. It's nice to see Paramount, for one, embracing such a smart effort again.
Genre: Comedy
Written by Diablo Cody
Directed by Jason Reitman
Starring Charlize Theron, Patton Oswalt, Patrick Wilson, Elizabeth Reaser, Collette Wolfe