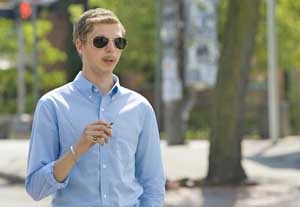 Michael Cera has become the go-to actor to play innocent, well-spoken, gawky teenagers. It's unclear what his future will bring once he eventually outgrows this type; but for now he has cornered the market. Although Cera gives yet another strong performance in his latest film, "Youth in Revolt," the film has problems: It's a comedy that isn't funny enough, and its plot and many of its supporting characters are not well-structured. Based on the novel by C.D. Payne and adapted by screenwriter Gustin Nash ("Charlie Bartlett"), "Youth in Revolt" probably should have remained a book, or at the very least had further rewriting for the screen.
Cera plays Nick Twisp, a frustrated virgin who, while on vacation, falls head over heels for Sheeni Saunders (Portia Doubleday), a sensitive beauty who appears to be his perfect match. The teens have good chemistry together, are smarter than the adults around them, and are fans of Sinatra, Fellini, and other vintage cultural icons. Problem is that Sheeni has a boyfriend, Nick is only visiting, and Sheeni's overprotective parents are not exactly keen on Nick. Still, those obstacles don't dissuade the maybe-lovers from trying to find a way to be together.
What ensues is mostly ridiculous and hard to swallow—the exception being the appearance of Nick's rebellious, ultra-cool alter ego, Francois, who appears to Nick in his bedroom soon after returning home from his life-altering trip. Cera plays both characters, and it shows that he is capable of portraying more than just wholesome guys. Francois convinces Nick to no longer play it safe and to become the bad boy Sheeni is hoping for. Without getting into the thick of the plot, what ensues is silly but not silly enough to elicit laughs. 
Director Miguel Arteta, who previously did fine jobs exploring disenfranchised characters in "Star Maps," "Chuck & Buck," and "The Good Girl," does not succeed here, especially with many of the supporting performances, which feel disjointed, unrehearsed, and tacked on. Arteta has assembled an amazing cast: Jean Smart, Mary Kay Place, Steve Buscemi, M. Emmet Walsh, Zach Galifianakas, Justin Long, Ray Liotta, and Fred Willard. Shame that they are mostly wasted. Still, Cera keeps us engaged and entertained, and captivating newcomer Doubleday is a young, intelligent, talented actor to look out for.
Genre: Comedy
Written by: Gustin Nash
Directed by: Miguel Arteta
Starring: Michael Cera, Portia Doubleday, Jean Smart, Mary Kay Place, Steve Buscemi, M. Emmet Walsh, Zach Galifianakas, Justin Long, Ray Liotta, Fred Willard