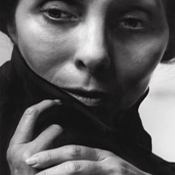 At the beginning of A Brush With Georgia O'Keeffe, the title character, now an elderly woman living in New Mexican solitude amongst her wild turkeys and pi単on trees, castigates some unseen admirers who are on a pilgrimage to find out more about their heroine. Believe what you like, she says. "Fuel my myth." For the next two hours, author-actor Natalie Mosco proceeds to do just that.
It's a given here that O'Keeffe was a great artist, although the larger jury is still out on that one, despite her even greater posthumous success. For a time she was America's most renowned living female painter. With her own museum in Santa Fe, she has become a legend. But her detractors, as this piece makes clear, have always found her work purely decorative: simple lines and pure tones depicting orderly and usually oversized abstractions of such real objects as roses, feathers, apples, and skulls. Her fans, on the other hand, have consistently found Freudian sexual imagery where she always claimed there was none. (She said she had never even read Freud.)
Like perhaps most artists, O'Keeffe was single-minded and self-absorbed. These qualities were good for her output but don't make for such great theatre. Disdaining the opinions of others, starting with her mother's (and sometimes excepting those of Alfred Stieglitz), her life quickly becomes a slavishly chronological travelogue of where she went, when, and why she wanted to go, and how other people's doings affected her: A close friend dies suddenly in Amarillo, and O'Keeffe's chief concern is that she is left without a place to stay. Although O'Keeffe lived a long life (1887-1984) full of crucial events in the wider world, this piece is almost devoid of context. Her reaction to World War I was that Amarillo, where she was teaching, was "no place for a pacifist."
This closely held through-line can work well enough in one-person shows, but this is not one of those. David Lloyd Walters plays the men in her life, chiefly Stieglitz, the photographer and art impresario who was her patron, lover, and, finally, husband. Virginia Roncetti plays the women: her mother, sister, close female friends, and Dorothy Norman, O'Keeffe's rival for Stieglitz's attentions. The actors, including Mosco, are believable in their roles, but after a while their dialogue palls. Mosco is clearly passionate about her subject, sometimes a bit too much so: Robert Kalfin, whose direction is otherwise fluid, might want to have a talk with her about excessive arm motions. Marylis Ernst's projection design -- old photos of the real-life principals and depictions of O'Keeffe's art -- are effective and helpful, but unless you too are a true believer, this is too much Georgia on her mind.
Presented by and at WorkShop Theater Company,
312 W. 36th St., 4th floor, NYC.
March 21-April 5. Wed.-Fri., 8 p.m.; Sat., 3 and 8 p.m. (No performance Sat., March 29, 3 p.m.)
(212) 352-3101 or (866) 811-4111 or www.theatermania.com.