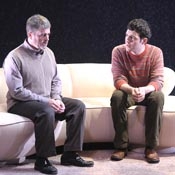 Just four years after Caryl Churchill's A Number premiered in New York comes this surprising revival of the two-hander about fathers and sons. Of course, Churchill offers anything but the usual series of confrontations and eventual forgiveness between a parent and his offspring. For in this instance, offspring should be plural. Thirty years before, Salter (Sean Marrinan) had his son, who he says was killed in a car crash, cloned. Unfortunately, the genetic scientist he consulted didn't just comply by creating the son Salter raised; he made a number of clones, anywhere from one to 20.
The why is never explained, and Churchill resolutely refuses to answer any of the other questions raised by her script. As Salter finds himself cornered by three versions of his son, Churchill throws ideas about heredity, humanity, and child abuse into the air, leaving them to linger in the pauses with which she's riddled her play.
As the three sons who try to grapple with the news that both science and one guilt-ridden man have mysteriously betrayed them, Jay Rohloff easily conveys three very different personalities with little more than posture, hairstyles, and accents. Alas, in the final scene his accent slips alarmingly from flat American to variations on the two British accents he uses in previous scenes. But as Salter, Marrinan doesn't fare as well. Giving the impression that he's merely a little put out by the revelation of his big secret, Marrinan doesn't come across as the conflicted man Salter demands to be until the final, chilly scene between Salter and a newly discovered facsimile of his son. As Salter demands to know something personal about this stranger, the implication is that there's nothing personal about a carbon copy of another human being. But Salter, the catalyst for the whole experiment, whose one concern when the truth comes out is how much money there's to be had from a lawsuit, is the one who seems to be missing a soul.
Presented by the Clockwork Theatre at the Beckett Theatre, 410 W. 42nd St., NYC. Sept. 6-26. Wed.-Sat., 8 p.m.; Sun., 2 p.m. (212) 279-4200 or www.ticketcentral.com. Casting by Todd Thaler Casting.