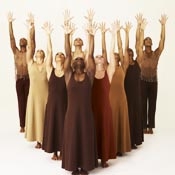 It used to be that the great thrill of seeing the Alvin Ailey American Dance Theater was to be wowed by the troupe's incomparable contingent of virtuoso male dancers. But this season, while the men are no less electrifying than usual, the company's women are giving them a run for their money, with equally enticing displays of athleticism, speed, strength, and charisma.
In an evening comprising two Ailey classics -- "Blues Suite" (1958), performed to live music, and "Revelations" (1960) -- and a trite new large group work, "Festa Barocca," by the Italian contemporary ballet choreographer Mauro Bigonzetti, the most memorable performances are those of Linda Celeste Sims, Gwynenn Taylor Jones, and Yusha-Marie Sorzano.
Set to frisky Handel selections, "Festa Barocca" is an irreverent bore built of silly gestural movements. While most of the time one is embarrassed watching these fine dancers being made to perform such drivel, in a solo spot late in the work Sorzano finds a defiant humor in the choreography and injects her moves with quicksilver percussiveness, making temporary significance out of Bigonzetti's nonsense. Stuck amid the frantic foolishness are two slow duets that signify, again, only because of the engaging fashion in which they are danced, the first featuring Jones' incredible strength and the second a showcase for Sims' haunting lyricism.
Sims also shines in a comic, character-driven duet with Clifton Brown in "Blues Suite," an episodic theatrical work that depicts a slice of Southern African-American life through a brilliant combination of vernacular, African, and modern dance styles. The importance of this Ailey work, a groundbreaking portrayal of ethnic sensibilities on the concert dance stage -- here given a spiffy new production with redesigned costumes by Normand Maxon -- is often overshadowed by the choreographer's more uplifting, signature masterpiece "Revelations."
While the entire company dances sublimely throughout the piece, the ace performances in "Revelations" are Sims' affectingly honest interpretation of "Fix Me, Jesus" and Brown's sturdy yet fluid rendition of "I Wanna Be Ready."
Presented by Alvin Ailey American Dance Theater
at New York City Center, 131 W. 55th St., NYC.
Dec. 3–Jan. 4. Tue., 7 p.m.; Wed.–Fri., 8 p.m.; Sat., 2 and 8 p.m.; Sun., 3 and 7:30 p.m. (Wed., Dec. 31 performance at 7 p.m.)
(212) 581-1212 or The New York City Center