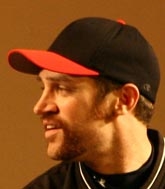 Although the title refers to an announcer's call as a baseball flies for the fence, Back Back Back is more bunt than home run. The first half of Itamar Moses' play about a true-life scandal might as well be written in code. When he gets to the second half, however, Moses' instinct for portraying individuals instead of generalizations kicks in and the evening takes flight. But the damage has been done, and this insider look at players who take steroids before publicly regretting their use and then ratting on their teammates is a fitful enterprise.
Despite the program disclaimer, the drama obviously has its roots in the exposé that Jose Canseco wrote about his career and, especially, in his outing of fellow player Mark McGwire as a steroid user. A third character, possibly based on rookie of the year Walt Weiss, is the innocent catalyst caught between the two veterans.
Divided into nine scenes, one for each standard game inning, the drama skips blithely through the years, beginning in 1984 and ending in 2005. (Times and settings are indicated by an overhead LED news zipper.) On David Zinn's spare set -- a few chairs, a water cooler, exercise equipment, benches -- the three characters give sketchy accounts of who they are and the nefarious things two of them are doing. Words have double meanings: "The biggest thing that gets in your way is recovery time," says Raul, the muscular, womanizing, Canseco-like figure, who calls steroids "pre-game vitamins" and is played by James Martinez as a volatile, outwardly charming, cocky, insecure anti-hero. Opposite him in character and temperament is Kent (read McGwire), the better educated, self-effacing, dedicated, avuncular figure, whom Jeremy Davidson portrays with a wary combination of compassion and ambition. In between is Adam, fresh-faced and nervous to the point of vomiting before his first World Series game. Although he's a pivot without exactly being pivotal to the tale, Adam represents the attitude that the game is more important than the players. Michael Mosley avoids the trap of being goody-goody naive, instead investing the character with a focused intensity.
Daniel Aukin's direction goes along with the piece's elliptical nature. Sentences are left hanging, and movements have a tentative nature. When, finally, the two antagonists, Raul and Kent, sit apart to hash things out, Aukin's understated direction effectively conveys their isolation and the regrets beneath their bravado. Helped considerably by David Weiner's lighting design, these final moments, and the sad coda of Adam trying to train a new rookie, send us out on a note of hope, both for individuals who play by the rules and for the integrity of the game itself. Up to then, this is a promising but attenuated work.
Presented by Manhattan Theatre Club
at New York City Center Stage II, 131 W. 55th St., NYC.
Nov. 18-Jan. 4. Schedule varies.
(212) 581-1212 or www.mtc-nyc.org.
Casting by Nancy Piccione.