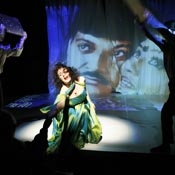 Any choreographer who can continue to surprise an audience for more than two hours with delightfully unexpected visual images of mesmerizing originality -- as Pina Bausch does in Bamboo Blues -- is indeed a rarity, particularly amid the current choreographic climate of postmodern recycling. In this 2007 India-inspired feast of astonishing dance solos, colorful video footage (by Peter Pabst) of the Indian jungle and Bollywood, and fluidly constructed goings-on that are enthrallingly inexplicable, one can see why Bausch is considered the most groundbreaking dance artist of the last 30 years.
While regular Bausch followers may find Bamboo Blues sprinkled with some of the choreographer's signature elements -- parading women in high heels gazing out at us with titillating slyness, that loosey-goosey, torso-driven movement style that always looks so yummy -- the work is remarkably unpredictable yet thoroughly unified. And therein lies Bausch's genius. Unlike many artists who capture attention by assaulting us with a barrage of unrelated and therefore unexpected happenings, Bausch is able to conjure a constant flow of spellbinding images that never feels random or haphazard. She seems to be showing us that even life's most bizarre occurrences, when taken together, are supported by a scaffolding of logical impulses. While as isolated events they lack coherence, in the context of this piece's Indian-flavored aesthetic palette, it makes sense when the front row of the audience is asked to sniff a yellow ribbon smelling of cardamom, a man processes across the stage balancing tree branches on his head and shoulders, a woman appears sporting an elephant head, and a couple cuddles erotically on a board that rolls back and forth on circular rods.
Set to a zesty compilation of appealing musical selections largely by contemporary Indian composers, Bamboo Blues is magnificently rendered by the 15 glamorous dancers of Germany's Tanztheater Wuppertal Pina Bausch, the company Bausch has directed since 1973 and upon which she evolved her pioneering and still-fresh brand of dance-theatre performance art.
Presented by Brooklyn Academy of Music
at BAM Howard Gilman Opera House, 30 Lafayette Ave., Brooklyn, NYC.
Dec. 11–20. Tue., Wed., Fri., and Sat., 7:30 p.m.
(718) 636-4100 or Brooklyn Academy of Music