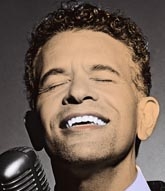 Shortly after gleefully handling Cole Porter's "I've Got You Under My Skin" at his just-concluded Feinstein's at Loews Regency gig, Brian Stokes Mitchell referred to the post-election euphoria sweeping the globe. Given the wide smile he wore along with his Barack Obama-influenced blue suit and tie, he hardly needed to mention euphoria. He embodied it.
Mitchell is so steeped in the irrepressible joy that used to be Bobby Short's sole domain that it infused his entire Songs... I Like to Sing — sometimes even to a fault. As he worked through the repertoire for this return visit to the venue, he was so infused with joy — often employing the word — that even songs dealing with more-tempered emotions were underpinned by echoes of the infectious Mitchell attitude.
But hold it. Other than the moody "What Are You Doing the Rest of Your Life?" (Marilyn Bergman-Alan Bergman-Michel Legrand) and Mitchell's own advice-oriented, country-ish "Life Is What Happens," everything the joyous Mitchell sang was an unadulterated celebration. Most obvious in one way if surprising in another as a boite entry was Johann Sebastian Bach's "Jesus, Joy of Man's Desiring," in which Mitchell made maximum use of what are his two voices — the silken Johnny Mathis purr and the robust Paul Robeson throb.
Even John Bucchino's exquisite "Unexpressed" is about the expression of stirring feelings, and Mitchell's rendition of it was ineffable. He made the Antonio Carlos Jobim "Waters of March" (in English and Portuguese) a festival of images. Suggesting a return to his previous Feinstein's stop, when he avoided leading-man bravado for charming informality, Mitchell was eager and happy to dive headlong into the silly. Is he the only singer outside of Ella Fitzgerald, who wrote the childlike ditty "A-Tisket, A-Tasket," to sing the song outside the shower? I've never heard anyone fool around with it as he does. Nor have I ever heard the traditional "Keemo Kymo" tooted from a nightclub floor.
It's an indication of Mitchell's bottomless charm that he not only gets away with this goofiness, but the patrons who packed the room through the week eat up with a Loews Regency spoon what he dishes out. It seemed as if everyone beamed along with him as he took an unusual amount of time describing his and his wife's activities election night — leaving the kids with a babysitter while they headed up Broadway to join the dancing in Harlem streets by a rainbow coalition of revelers.
The wide-eyed intro preceded his final numbers — each a continuation of the euphoria he had no inclination to contain. Saying he hadn't intended when first putting the act together — particularly with Hawaii import Jeff Peterson, a guitarist he adores — to sing anything from Ragtime, the Lynn Ahrens-Stephen Flaherty-Terrence McNally musical in which he starred 11 years ago, he nevertheless reprised "Wheels of a Dream," in combination with "America the Beautiful" (Katherine Lee Bates-Samuel A. Ward).
He followed that with the jubilant George David Weiss-Bob Thiele "What a Wonderful World" and then his inevitable beg-off, "The Impossible Dream" (Joe Darion-Mitch Leigh). Because the current mood — in New York if not absolutely everywhere die-hard Republicans hunker — reflects the sudden belief that no dream is impossible, Mitchell ended a show looking like what he'd looked like from the beginning: a dreamer awakening from one beautiful dream to another.
Presented by and at Feinstein's at Loews Regency, 540 Park Ave., NYC. Nov. 11-15.