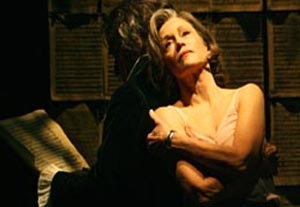 "The art of variation is transforming something into its better self," explains Jane Fonda as Dr. Katherine Brandt, the musicologist at the center of Moisés Kaufman's muddled play
33 Variations
. Kaufman, who also directs, attempts to transform a subject of academic interest—Beethoven's obsession with a simple waltz, upon which he based the titular project—into a theatrical event. But he layers the story of the elderly genius with the melodrama of Dr. Brandt, and the result is like
Amadeus
meets Lifetime TV.
Kaufman has turned a potentially engrossing drama into a banal soap opera. Dr. Brandt is gradually succumbing to a debilitating disease as she researches the topic and reconnects with her estranged daughter, Clara. Parallels are drawn between scholar and subject as they lose their health. Meanwhile, a romance develops between Clara and Mike, a nurse treating her mother. Somehow they all wind up in Bonn, Germany, where the Beethoven archives are located, and form a temporary family along with Gertie, the head archivist, whose frosty Teutonic exterior soon melts.
It's only when Kaufman jumps the tracks and heads into unconventional territory that the play acquires much-needed humor and imagination. An ordinary wooing scene between Clara and Mike becomes a clever duet when it's played twice—with both giving voice to their private thoughts. In another effective moment, while Dr. Brandt reads a biography of Beethoven on an airplane, the scene she's reading about is played out, then interrupted by the steward advising passengers to fasten their seat belts and "If you've been reading a biography of Beethoven, return to the present. Snap out of it!" In a third deceptively simple piece of staging, Gertie crosses the stage in the 20th century and retrieves a notebook from a character in the 19th. These fluid moments are aided by Derek McLane's set of library archives and sheet music and David Lander's painterly lighting.
It is marvelous to see Fonda on Broadway after a long absence from major screen work—I'm not counting the silly
Monster-in-Law
or the more substantive but overlooked
Georgia Rule
—and an even longer hiatus from the stage. But she fails to generate sympathy for Dr. Brandt's plight or excitement for her thesis. While she competently delivers several long monologues on musical and personal history, her voice is occasionally strained, and she lacks the passion to make us care about the compositional process.
That passion is supplied in spades by Zach Grenier's disheveled, tempestuous Beethoven. Looking like an unmade bed and displaying the temperament of a bear just awakened from hibernation, Grenier captures the obnoxious, enraged master who cares for nothing but his glorious music. The play's highlight is a brief scene in which Beethoven composes one of the more beautiful variations as pianist Diane Walsh sensitively performs it. Anger, joy, and ecstasy cross his face as inspiration fuses with creation.
Despite Grenier's robust performance and solid work from Samantha Mathis, Colin Hanks, Don Amendolia, Susan Kellermann, and Erik Steele, these
Variations
are on themes that are all-too-familiar.
Presented by David Binder, Ruth Hendel, Barbara Whitman, Goldberg/Mills, Latitude Link, Arielle Tepper Madover, Bill Resnick, Eric Schnall, Jayne Baron Sherman, and Willis/True Love Productionsat the Eugene O'Neill Theatre, 230 W. 49th St
.,
NYC
.
March 9
–
May 21. Tue
.,
7 p.m
.;
Wed
.–
Sat
.,
8 p.m
.;
Wed. and Sat
.,
2 p.m
.;
Sun
.,
3 p.m
. (
No performance Tue
.,
March 10
.)
(
212
)
239-6200
, (
800
)
432-7250, or www.telecharge.com
.
Casting by James Calleri
.