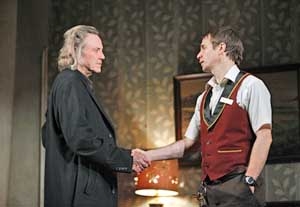 There's not much to Martin McDonagh's "A Behanding in Spokane." While this 90-minute exercise in hilarious terror shares the brutality and pitch-black humor of the Irish playwright's previous works, it doesn't have anything to say about the country of its setting (as his Gaelic-centric plays, such as "The Beauty Queen of Leenane" and "The Lieutenant of Inishmore," do) or the nature of storytelling (the theme of "The Pillowman"). It just seems as if McDonagh picked a spot on a map of the U.S. that sounded intriguing for the title, then put a psycho in a hotel room with two incredibly stupid crooks and an equally dim-bulb night clerk. Then he stirred in some Tarantino/Coen brothers–style gore, a dash of existential angst, a smattering of pop-culture references (heavy on "The Night of the Hunter"), and hoped for a box-office hit.
The resultant blood-soaked dish is wildly uneven, with gaping holes in its logic. I don't care how dumb you are, nobody is dim enough to miss a telephone inches away as a means of calling for help when you're handcuffed to a pipe and about to be murdered. But that's what happens here. However, there are some wildly funny moments. In addition, because the psycho is played by Christopher Walken and the play is strongly directed by John Crowley, who staged "The Pillowman" with incisiveness and precision, "Spokane" is a bracing example of what a crackerjack star and helmer can do with a mediocre script.
Walken plays a one-handed, hollow-eyed sociopath named Carmichael, who is obsessively searching for his missing appendage. Zoe Kazan and Anthony Mackie are Marilyn and Toby, the luckless pair attempting to con Carmichael and getting more than they bargained for. Sam Rockwell is Mervyn, the directionless young desk clerk who has been longing for a heroic purpose to his empty existence ever since his favorite monkey at the zoo died (don't ask). Absent from the stage since the all-star "Seagull" at the Delacorte, Walken is the master of the sarcastic line delivery and the slow burn. This is a weirdly self-conscious performance, as if he's winking at the audience, but it somehow works, particularly in two show-stopping monologues, one delivering the harrowing tale of how this whack job's hand came to be lost and the other a shaggy-dog phone conversation with Carmichael's equally nutso mother. The entire production is oddly presentational, with Scott Pask's shabby hotel-room set raised on a platform and featuring mismatched footlights and a dirty, hole-filled curtain more suited for a flophouse shower stall.
Rockwell, Kazan, and Mackie are three of our most accomplished young actors, but though they commit fully to their choices, they fail to convey the utter cluelessness of these slackers. The actors' intelligence shines through the characters' murkiness. Despite these shortcomings, Crowley manages to combine understated and over-the-top direction for maximum laughs. He knows when to be quiet and when to hit you over the head.
"Spokane" can be enjoyed for Walken's quirky performance and Crowley's balanced staging. There are no hidden messages about racism, homophobia, or violence in America, any more than there are in your average episode of "Cops," but both that type of reality TV and this play are guilty pleasures.

Presented by Robert Fox, Carole Shorenstein Hays, Debra Black, Stephanie P. McClelland, Ostar, Roger Berlind, Scott Rudin, and the Shubert Organization, in association with Robert G. Bartner, Lorraine Kirke, and Jamie deRoy/Rachel Neuburger at the Gerald Schoenfeld Theatre, 236 W. 45th St., NYC. March 4–June 6. Tue., 7 p.m.; Wed.–Sat., 8 p.m.; Wed. and Sat., 2 p.m.; Sun., 3 p.m. (212) 239-6200, (800) 432-7250, or www.telecharge.com. Casting by Jim Carnahan.