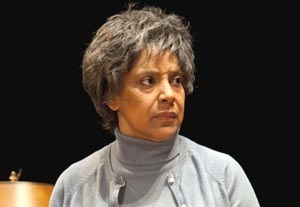 More than a year after it opened,
August
:
Osage County
, Tracey Letts' Pulitzer Prize–winning dysfunctional-family drama, retains enough heavyweight punch to knock audiences out. Anna D. Shapiro's precise staging still makes the play's three hour and 20 minute running time pass swiftly.
The main occasion for a revisit is Phylicia Rashad, who has stepped into the role of monster mother Violet Weston. While most actors who achieve fame on a TV series—as Rashad did on Bill Cosby's two 1980s sitcoms—are content to rest on their residuals, Rashad has taken numerous artistic chances, playing diverse parts on Broadway in
A Raisin in the Sun, Gem of the Ocean, Cymbeline
, and
Cat on a Hot Tin Roof
. But this production is her greatest risk, as an African-American actor in an otherwise all-Caucasian ensemble in which all are playing family members.
Rashad's race becomes immaterial almost as soon as she makes her first entrance. Drugged out of her mind, stumbling down the stairs and tripping over her own tongue, her Violet is immediately in place as the manipulative matriarch. Rashad gradually peals back the layers of Violet's armor to reveal the hard core of determination to dominate her husband and children. During the tense dinner scene, you can see her eyes darting around the room like a caged animal's, searching for the most strategic means of attack. When Violet finally breaks at the end of the play, Rashad captures her unexpected vulnerability with startling suddenness.
Elizabeth Ashley has an equally powerful presence as Violet's boisterous sister Mattie Fae. "I'm not just your fat Aunt Mattie Fae. There is more to me than that," she cries to a niece while revealing a long-hidden secret, and we believe her. The pain of exposing her younger indiscretions is etched on Ashley's eloquent features. As Violet's alcoholic husband, Beverly, John Cullum packs an entire history of academic disappointment and marital discord into a few minutes.
Amy Morton returns as the unhappy eldest daughter, Barbara, and proves to be a match for Rashad in their mother-daughter smackdown. At the performance attended, understudy Frank Deal took over for Frank Wood as Barbara's estranged husband, Bill, and provided an anchor of solid support for these bustling battleships. Guy Boyd makes a tender Charlie, Mattie Fae's understanding spouse.
Veterans of the original cast who continue to ignite Letts' dialogue include Sally Murphy, Mariann Mayberry, Kimberly Guerrero, and Brian Kerwin, supported by newcomers Anne Berkowitz, Michael Milligan, and Troy West. Actors should definitely take a look for a lesson in keeping your performance fresh in a long run.
Presented by Jeffrey Richards, Jean Doumanian, Steve Traxler, Jerry Frankel, Ostar Productions, Jennifer Manocherian, the Weinstein Company, Debra Black/Daryl Roth, Ronald & Marc Frankel/Barbara Freitag, Rick Steiner/Staton Bell Group at the Music Box Theatre, 239 W. 45th St
.,
NYC. Dec. 4, 2007–June 28, 2009. Tue
.,
7 p.m
.;
Wed
.–
Fri
.,
7:30 p.m
.;
Sat
.,
8 p.m
.;
Wed. and Sat
.,
2 p.m
.;
Sun
.,
3 p.m
. (
212
)
239-6200
, (
800
)
432-7200, or www.telecharge.com. Casting by Stuart Howard, Amy Schecter, and Paul Hardt
.