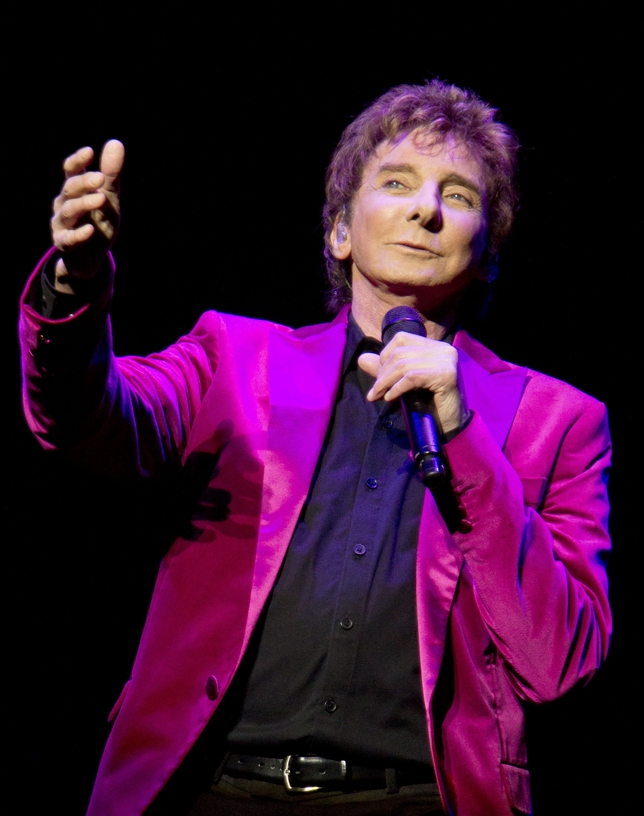 Singer-songwriter Barry Manilow became a pop superstar in the 1970s just as I reached adulthood, but I have only purchased one Manilow album in my life: 1984's "2:00 AM Paradise Café." The reason was to hear the song "When October Goes," which features a then newly discovered lyric by Johnny Mercer that Manilow set to music at the request of the great lyricist's widow. It's a lovely song, with Manilow confidently inhabiting Henry Mancini movie-theme-music territory, and he gives a sensitive account of it in "Manilow on Broadway," a Las Vegas–style concert that's been imported to the St. James Theatre. But out of the remaining 20 Manilow hits presented, I recognized a mere six, none of which I have ever liked. Manilow is not my métier.
He is, however, beloved by legions, and they were out in force at last night's opening, leaping to their feet and singing along, energetically waving green glow sticks (even during the ballads), shooting reams of video on cell phones, dancing in the aisles for "Copacabana," and roaring their approval throughout. One woman of a certain age, eyeing the notebook in which I was dutifully compiling a set list, interrupted her dancing to lean over me and shout something, which I failed to make out but that my husband insists was a warning not to write a bad review of her idol. Ma'am, I'm trying.
And I mean that. Any performer who gives as much pleasure to people as I saw registered on a sea of beaming faces deserves great credit for that accomplishment. Manilow knows what his audience wants, and he is delivering it in spades. Fighting the effects of what the press reported as bronchitis but the star referred to as "flu," which forced him to reschedule a week of shows, his voice was sometimes overwhelmed by the aggressive techno-pop orchestrations, but he held the stage by force of personality amidst the multicolored roving lights and cheesy backup videos (on the level of a smiley face during "Can't Smile Without You"). His sparse, sentimental patter is largely autobiographical, and he banters easily with his fans in a not always convincingly self-deprecating manner that they clearly adore. I could, however, have done without linking a spoken salute to New Yorkers for their response to Hurricane Sandy with a rendition of "I Made It Through the Rain."
I was intrigued to hear "Every Single Day," the main love ballad from Manilow's 1997 musical "Harmony," created with book writer–lyricist Bruce Sussman. The show tells the true story of the Comedian Harmonists, an all-male German singing sextet that found worldwide success in the days of the Weimar Republic only to be destroyed by the Nazis because it had Jewish members. The musical played La Jolla Playhouse but never came to Broadway, and Manilow is keen on finally getting it there. Alas, the pretty but generic tune seemed to confirm critic Charles Isherwood's verdict in Variety: "Manilow's melodies are pleasant and polished, but fatally bland."
Presented by Jujamcyn Theaters and Stiletto Entertainment at the St. James Theatre, 246 W. 44th St., NYC. Jan. 29–March 2. (212) 239-6200, (800) 447-7400, or www.telecharge.com.
Critic's Score: B