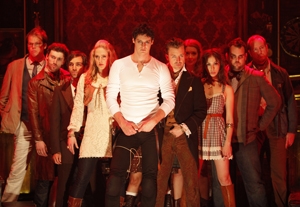 In its transfer to Broadway, "Bloody Bloody Andrew Jackson" has gotten even wilder since its incarnations at Off-Broadway's Public Theater  last season. This raucous combination political cartoon, rock concert, and extended "Saturday Night Live" sketch now fills the Bernard B. Jacobs Theatre with irreverent wit, in-your-face satire, and lots of sweaty sex appeal. Alex Timbers' off-the-wall book and direction and Michael Friedman's pulse-pounding score provide the first two elements, and Benjamin Walker in the lead delivers the third.
The outrageous premise mixes lampoon with history to provide a wacky yet frighteningly accurate dual picture of America's past and present through the career of our seventh president. Jackson was the first populist chief executive, and Timbers and Friedman see parallels between his appeal to the "common man" and our current state of divisive public discourse. When the show was first presented by the Center Theatre Group and the Public in Los Angeles in 2008, the Tea Party was just beginning to simmer. Now that movement is at full boil, and the show is especially relevant in its portrayal of an angry grass-roots uprising seeking to "take back the country" from the "elitists." (There's even a new Christine O'Donnell joke, poking fun at the Delaware senatorial candidate's high-school dabbling in witchcraft.)
Just as he was Off-Broadway, Walker is a ball of nasty charisma as Jackson, simultaneously playing him like a spoiled teenager, angry rock star, wily politician, and real human being. It's a star-making turn and should put him high on the ballot for a 2011 Tony Award. The supporting cast have gotten deeper into their multiple cartoonish roles, occasionally mugging a bit too broadly for extra laughs. Bryce Pinkham's Dr. Evil-ish Henry Clay is now almost a certifiable maniac, and as Martin Van Buren, Lucas Near-Verbrugghe milks the Twinkie-munching antics a tad too long. But these are my only quibbles with an otherwise riotously funny evening. Jeff Hiller is particularly incisive in his nerdy interpretation of the foppish John Quincy Adams, Jackson's presidential predecessor, and a series of goofy messengers. Maria Elena Ramirez continues to provide the backbone to the madness as Jackson's determined wife, Rachel.
The brilliant, Obie-winning Kristine Nielsen is the only major addition to the cast, bringing her unique brand of lunacy to the prim storyteller. Watch as she maneuvers her electric wheelchair amidst the chaos on stage. Her expression of gleeful anticipation to bring historical perspective to the kooky proceedings is priceless.
Donyale Werle's nut-house set, which is a country tavern, history department faculty lodge, and boozy rock club all at once, extends into the entire theater and provides the perfect setting for the show's multiple perspectives.  

Presented by the Public Theater, Jeffrey Richards, Jerry Frankel, Scott M. Delman, Stewart Lane & Bonnie Comley, Susan Quint Gallin/Mary Lu Roffe/Jennifer Manocherian, Nancy C. Paduano/Harold Thau, Joey Parnes (executive producer), and Center Theatre Group at the Bernard B. Jacobs Theatre, 424 W. 45th St., NYC. Opened Oct. 13 for an open run. Mon., Tue., Thu., and Sun., 7 p.m.; Fri. and Sat., 8 p.m.; Sat. and Sun., 2 p.m.  (212) 239-6200, (800) 432-7250, or www.telecharge.com. Casting by Carrie Gardner.