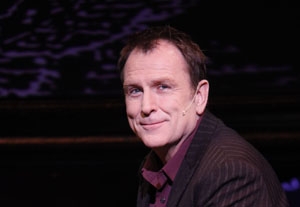 Though it combines elements of political cartoon and history lecture, "Colin Quinn: Long Story Short" is basically a 75-minute standup routine, and a mostly funny one. Quinn, a veteran of "Saturday Night Live" and previous solo theater ventures, tackles no less a subject than the history of the world through a wildly satirical lens. He begins with the sorry state of contemporary society, using a visit to a dying relative's hospital room as an example of our inability to coexist peacefully. "My aunt's last words were, 'Turn the TV so the person in the next bed can't see it,' " he dryly recounts and then rhetorically asks, "If we can't share a hospital room, how can we share the Middle East?" From there he launches into a crash course in civilization—Western and otherwise—from prehistoric man to ancient Greece to the heyday of the British Empire and back to the present.
The piece comes to the Helen Hayes after a successful run Off-Broadway this past summer that I did not see. The press release gave me some trepidation, with its descriptions of the comedian portraying Julius Caesar as an Italian mobster and comparing Antigone to Snooki. The potential for overblown shtick was definitely present. But Quinn, perhaps thanks to the influence of his director, notoriously low-key funnyman Jerry Seinfeld, wisely underplays his comic concepts, allowing the audience to find the humor without underlining it. He doesn't break into a broad Italian accent as Caesar or an exaggerated "Jersey Shore" persona when invoking the cast of that reality TV show; he just slyly suggests his impersonations. Unlike a lot of contemporary comedians, Quinn doesn't hit a joke over the head. Sometimes the ideas are brilliantly realized, though a mite tangential, such as using medieval morality plays as a springboard for a parody of a clichéd white-teacher-in-a-black-school movie. The lampoon is a riot but doesn't really fit in with the rest of the material. But hey, it's a comedy act, not a doctoral thesis. Sometimes the conceits are funny at first but go on a bit too long. The love-hate relationship between England and France seen in terms of a dysfunctional romance is cute at first, but Quinn drags it on past its sell-by date.
Those are my only quibbles. I found myself laughing through 80 percent of the show. It's also one of the most erudite acts I've ever encountered. How many comics would include references to the Holy Roman Empire, the Silk Road, and the difference in speech habits of East and West Africans? In the cleverest bit, Quinn compares the state of the world to a bar at 3:30 a.m. Everybody's drunk and ready for a fight, and America's acting like "the alcoholic, drug-addict brother of Canada. He's even spilling his drink in the Gulf of Mexico."
In addition to keeping Quinn at a Seinfeldesque level of cool, the director ably moves the performer around David Gallo's Parthenon-inspired set. Gallo also created the projection design, which provides colorful background to Quinn's time trip without overwhelming it.
The only question is whether theatergoers will pay Broadway prices for this brief yet fun show.
Presented by Eva Price, Richard Martini, Bruston Kade Manuel & Will Dombrowski, Richard Winkler, George Shapiro, Matthew Salloway, Jack Thomas, Bisno/Frankel/Fireman, Dan Frishwasser, Avram Freedberg & Mary Beth Dale, and Allen Spivak at the Helen Hayes Theatre, 240 W. 44th St., NYC. Nov. 9–March 5. Mon., Wed.–Fri., 8 p.m.; Tue., 7 p.m.; Sat., 2, 5, and 8 p.m. (212) 239-6200, (800) 432-7250, or www.telecharge.com.