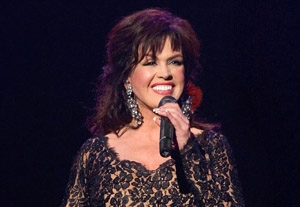 Certain performers inspire more admiration for their hard work and tenacity at remaining in the spotlight than for their talent or interpretative skills. Such is the case with Donny and Marie Osmond—for this critic at any rate. I was never a fan of the white-bread duo at the height of their fame in the 1970s, when they headlined an ABC variety series and had hits at the top of the pop and country charts. But during "Donnie & Marie: A Broadway Christmas," their holiday show at the Marquis, I couldn't help but think, "Boy, they are really putting out 110 percent to give us a good time."
The brother and sister still have impressive pipes and can dance well. Both finished in the finals on "Dancing With the Stars," with Donny winning and Marie placing third on separate seasons, as they frequently remind us. But they humorously acknowledge they aren't teenagers anymore; Donny occasionally stops for breath during a strenuous routine, and Marie jokes she is not as young as their energetic chorus members. The duo's 110-minute set features their past hits, solo spots for each, video footage of their nearly five-decade-long careers, and playful audience interaction. Marie displays a surprisingly supple voice as she switches from rock (a sexy "Would I Lie to You?") to Broadway (a medley of standards with Fosse-ish choreography) to 1940s jazz (a nifty "Boogie Woogie Bugle Boy") to opera and inspirational. She also has great fun teasing her brother and engaging in a duet with a reluctant audience member. Donny is not nearly as versatile. His narrow range extends from renditions of his teeny-bopper hits "Puppy Love" and "Go Away, Little Girl" to a straining "Crazy Horses," the Osmond Brothers' attempt at hard rock. Donny acknowledges Stevie Wonder as his musical idol, but a tribute to the soulful singer-songwriter comes across as somewhat stilted. It's just weird to hear Donny Osmond sing lines like "When I was a nappy-headed little boy." But within his pop frame, Donny is still a heartthrob and can put across a ballad of unrequited love.
Huge video screens on both sides of the stage provide close-ups of the stars, so we can see how much they are sweating for us. That's the main quibble: The effort they're putting into the show is too visible, figuratively and literally. Barry Lather directs and choreographs with an eye to the Las Vegas hard sell. This is not so surprising, as Lather also staged the duo's show at the Flamingo, which has been playing the gambling capital since 2008.
As with "The Pee-wee Herman Show" and "Rain: A Tribute to the Beatles," two other Main Stem exercises in nostalgia, how you take to "Donny & Marie" depends on your taste and your memories. If you grew up mooning over either of these Osmonds, it will be like heading home for the holidays for a warm and comforting family dinner. If not, it will be probably be like biting into your aunt's fruitcake: not too tasty, but you gotta admire all the work that went into it.
Presented by Gregory Young/the Production Office, Jon B. Platt/On the Line Company, and Magic Arts & Entertainment/Newspace Entertainment, in association with Greg Sperry and Eric Gardner, at the Marquis Theatre, 1535 Broadway, NYC. Dec. 14–Jan. 2. Mon. and Tue., 7 p.m.; Thu. and Sat., 8 p.m.; Sun., 3 p.m. (Additional performance Fri., Dec. 17, 8 p.m.; Sat., Dec. 18, 2 p.m.; Wed., Dec. 29, 2 p.m.; no performance Sat., Jan. 1.) (877) 250-2929 or www.ticketmaster.com.