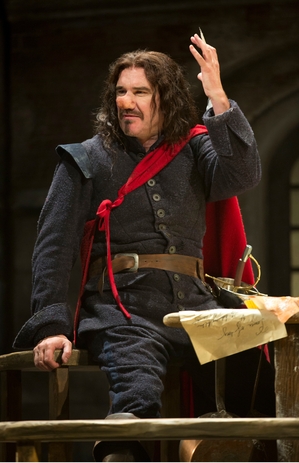 I must confess that I've never been a great fan of Edmond Rostand's "Cyrano de Bergerac," though it is indisputably a beloved classic. I generally find Roxane to be a ninny, Christian a dim, self-serving bore, and Cyrano a fool for wasting his heart on them. But in English director Jamie Lloyd's tart reconsideration, using Ranjit Bolt's tersely colloquial new translation and featuring a bracingly fresh interpretation of the title role by the Tony-winning Douglas Hodge, I suddenly found myself emotionally engaged in this unlikely love triangle. This is a "Cyrano" that sings.
The poet-soldier with the oversize proboscis, of course, is the show, and Hodge devours the role from his initial, highly theatrical entrance. But while most actors play this iconic romantic as a flamboyant peacock in thrall to his "panache," Hodge creates a bantam rooster, scrappy and snapping and driven by a ferocious anger at life's unfairness and his own outsider status that undermines his self-worth. Not only does it make his lifelong undeclared love for Roxane more believable; it also allows for an unlikely but growing bond with his rival that undercuts the masochism inherent in his efforts to woo Roxane for Christian. While Hodge doesn't stint in milking every drop of showiness he can, the actor never fails to anchor Cyrano's behavior in a bruised humanity, and the result is bewitching.
It's not just Hodge's fine work, however, that puts the proceedings over. Equally fine are Clémence Poésy, a French actor with substantial theater credits in her native land, and Kyle Soller, an English RADA-trained newbie, as the young lovers. She is a gamine Roxane, poised, intelligent, insouciant, and filled with a light confidence. When Poésy's young lady shows up unexpectedly on the battlefield having made her way through enemy lines on the strength of her feminine charms, she arrives in male attire but looks so fetching that her success feels entirely appropriate. Soller is not the model-handsome hunk usually cast as Christian. Oh, he's an attractive guy, but he's also on the short and slight side. His Christian is a bit of a nerd, and Soller stresses the lad's crippling insecurity with women, lending him a vulnerability that helps to diminish the shallowness of Roxane's instant attraction to him.
Patrick Page is coolly understated as Comte de Guiche, Roxane's duplicitous foppish cousin, who wants her for his own. The rest of the 13-person, mostly male supporting cast does sturdy work, ripping through the creaky beginning exposition (it takes 45 minutes before Roxane tells Cyrano of her feelings for Christian and sets the plot in motion) and decorative comic antics with alacrity. Soutra Gilmour's simple two-tiered unit set of flaking brick arches and subdued, autumnal-hued costumes, under Japhy Weideman's dappled lighting, nicely complement Lloyd's subtler approach.
I suppose it's possible that "Cyrano" traditionalists will not be as taken with Lloyd's interpretation as I was. Nevertheless, I would urge everyone to check out Roundabout Theatre Company's thoughtful, committed production.
Presented by Roundabout Theatre Company at the American Airlines Theatre, 227 W. 42nd St., NYC. Oct. 11–Nov. 25. (212) 719-1300 or www.roundabouttheatre.org. Casting by Jim Carnahan and Carrie Gardner.
Critic's Score: B+