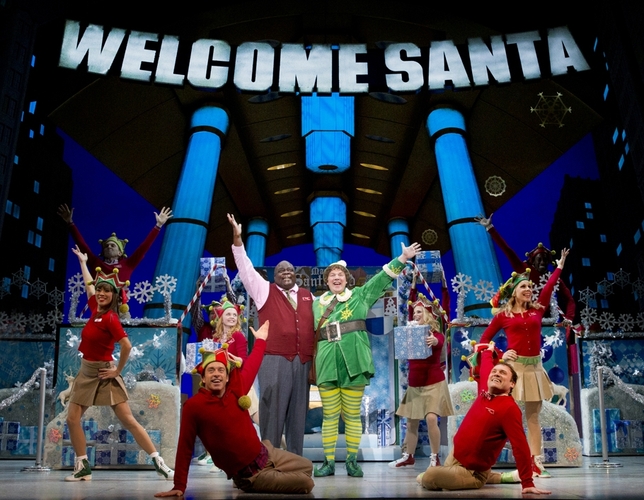 There is so much to love about the movie "Elf." Fortunately, many of those same charms grace the stage in the returning holiday musical of the same name. (Diehard fans may mourn the loss of Mr. Narwhal, though.) One major factor is missing from the production, however, and it's really no one's fault that it's gone. Even if composer Matthew Sklar and lyricist Chad Beguelin had written an interesting score or book writers Thomas Meehan and Bob Martin had improved upon David Berenbaum's hilarious screenplay, it wouldn't matter. The story simply doesn't work without Will Ferrell.
Ferrell is an inimitable comedic master, and the hilarity of Buddy the Elf—an orphaned human who grew up at the North Pole under the belief that he's a Christmas elf—comes from his unique style. It is completely unfair to compare actor Jordan Gelber to Ferrell; the casting team goes for a different type of Buddy with Gelber in the role. As opposed to Sebastian Arcelus, who originated the role on Broadway in 2010 and resembles Ferrell physically, Gelber brings a clunkier, more physical comedy to the part. But Gelber is stuck in a syrupy mess. If he chooses to imitate Ferrell, he will pale in comparison. And if he tries a new interpretation, he risks compromising the appeal of the story. So Gelber takes a while to warm up to his approach, though he is endearing by the show's conclusion. The most jarring lack in the performance is his singing. While Gelber practically runs a theatrical marathon, rarely leaving the stage, he consistently sings as if he's gasping for breath. And for a musical about an elf who loves to sing, Gelber could use some stronger pipes.
I don't mean to be unfair. Obviously, Gelber doesn't have transformative powers, and he runs the race with heart and endurance. There is a lot to like in the cast, as well. As hipster Macy's elf and love interest Jovie—played by Zooey Deschanel in the film and Amy Spanger in the original production—Leslie Kritzer belts her angsty second act ballad to perfection. Beth Leavel, Mark Jacoby, Valerie Wright, and Michael Mandell are all fantastic returning cast members from the show's 2010 run. (It does help that they look and sound identical to their film alter egos.) Headliner Wayne Knight of "Seinfeld" fame does the trick as Santa, though he's probably generating more ticket sales than laughs.
Director and choreographer Casey Nicholaw proves that he knows a thing or two about musical comedy in his efficient staging and lively dance numbers. David Rockwell's scenic design is a veritable Christmas wonderland that would make Santa proud, and Gregg Barnes's colorful and loud costumes scream for attention. At the same time, Zachary Borovay's realistic projection designs are tonally wrong and distracting during Buddy's journey to New York.
The best number in the show is a scene that doesn't come from the film. A group of put-upon, soon-to-be-out-of-work mall Santas sing a hilarious number in a Chinatown restaurant, bemoaning how nobody cares about or believes in the big man anymore. No matter how hard Buddy tries to muster up belief, it's difficult to care about "Elf" too.
Presented by Warner Bros. Theatre Ventures, Inc. in association with Unique Features and Jujamcyn Theaters at the Al Hirschfeld Theatre, 302 W. 45th St., NYC. Nov. 18–Jan. 6. (212) 239-6200 or www.telecharge.com. Casting by Bethany Knox, Telsey + Company.
Critic's Score: C-