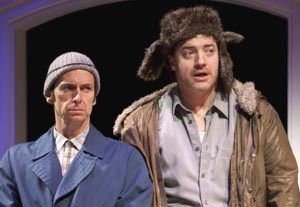 I'm generally pretty skeptical when films are turned into stage plays. Rarely does there seem to be any motive other than profit, and the results are usually a pale echo of the original. "Elling" is based on both a 2001 Norwegian movie that was Oscar-nominated for best foreign-language film and the quartet of novels by Ingvar Ambjørnsen that inspired it. In Simon Best's English adaptation of the dramatization by Axel Hellstenius and Petter Næss (they also wrote the screenplay), it hews remarkably closely to its cinematic progenitor and yet somehow also stands on its own. With Brendan Fraser and Denis O'Hare having terrific rapport as two polar-opposite social misfits released into the world from a state mental institution in the hope they can make a life together, this quirky, intimate comedy-drama proves to be unassumingly successful.
Elling is an obsessive-compulsive would-be poet whose clinging mother kept him entirely to herself for his first 40 years. When she dies, he can't cope and ends up institutionalized. There he shares a room with Kjell Bjarne, a slow-witted, congenitally enthusiastic shaggy-dog lug who's almost 40 but still a virgin. (He was committed for proposing marriage to a woman with his pants off.) After two years, they are released to live in a state-supported apartment in Oslo under the observation of social worker Frank Asli. At first the agoraphobic Elling refuses to leave the apartment or even answer the phone, while the frustrated Bjarne, desperate for female companionship, runs up a huge bill on a phone sex line. Then Bjarne rescues Reidun Nordsletten, the pregnant upstairs neighbor who collapses drunk in the stairwell on Christmas Eve. Reidun's invitation to dinner drives the furiously jealous Elling out of the apartment to avoid it. He ends up at a poetry reading, where he bonds with Alfons Jorgensen over their mutual dislike of contemporary work. The seeds of social integration are now planted, but whether they will flower is up for grabs.
As Elling, O'Hare is perfectly cast. The stage vet has a field day with this waspish mama's boy, landing laugh after laugh with Elling's uniquely skewed perspectives on life, love, and politics. But O'Hare is also careful to show Elling's emotional bond with and need for his unlikely roommate. Fraser matches him at every turn as Bjarne, his commitment to the role even extending to adding some excess weight to his normally trim figure. The screen star does well with Bjarne's childlike excitement over the smallest of things and endows this lumbering, bathing-averse guy's guy with a sense of grace.
Jennifer Coolidge plays Reidun, as well as four other quick-sketch roles that she differentiates effectively. As the somewhat dim but goodhearted neighbor, Coolidge affects an appropriate bruised-but-game quality, which she leavens with unexpected bursts of radiance. The regularly excellent Richard Easton is Jorgensen, who turns out to be a famous Norwegian poet who ceased writing when his wife died, and the actor brings just the right mix of elegance, dry wit, and restless curiosity to the part while maintaining an underlying sadness. Jeremy Shamos is properly exasperated and unsentimentally challenging in the somewhat underwritten role of Asli and also gets to have some brief fun as a pretentious poet. Doug Hughes directs with a keen sense of tone, never letting sentiment swamp humor, and comes up with some useful staging interludes that help disguise the cinematic short-scene script structure.
"Elling" is a bit of an anomaly on today's Broadway, which increasingly seems to think in terms of big, bigger, and biggest. Its pleasures are quiet ones, but that doesn't make them any less satisfying. 
Presented by Howard Panter for Ambassador Theatre Group, Robert G. Bartner, Bill Kenwright, John O'Boyle, Deborah Taylor, Burnt Umber, Finola Dwyer, Elling Ellingsen and Magnus Karlsen, Bill Ballard/David Mirvish, Ronnie Planalp, Toledo Productions, Lorenzo Thione, Jay Kuo, Harris Karma Productions, Jayne Baron Sherman, Robert Driemeyer, Cameron/Mathieu, and Dodger Theatricals, in association with Bob Boyett, at the Ethel Barrymore Theatre, 243 W. 47th St., NYC. Nov. 21–March 20. Tue., 7 p.m.; Wed.–Sat., 8 p.m.; Wed. and Sat., 2 p.m.; Sun., 3 p.m. (No performances Thu., Nov. 25; Fri., Dec. 24 and 31; and Sat., Dec. 25; additional performances Mon., Nov. 22, Dec. 20, and Dec. 27, 8 p.m.) (212) 239-6200, (800) 432-7250, or www.telecharge.com. Casting by Jim Carnahan.